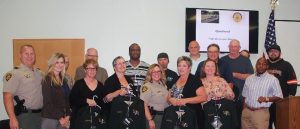 The Denton County Sheriff's Office kicked off their new Volunteers in Police Service Program (VIPS) on Tuesday.
The goal of the program is to give citizens a chance to give back to their community, according to Denton County Sheriff Will Travis.
Volunteers will work with deputies in several areas of the sheriff's office to improve visibility and increase their ability to prevent crimes, such as acting as community liaisons, participating in crime watch groups, community events, school events, juvenile impact program, translation services, fingerprinting services and crime prevention support.
"Our goal in creating VIPS is to establish a greater partnership than ever before with the community we serve," said Travis.
"To do this we must communicate in a way that allows us to better understand the concerns of our citizens and at the same time, allows citizens to better understand what we do and our commitment to the safety and security of our entire community."
The VIPS program came about after Travis charged deputies Penny Campbell, Bob Hargenrater and Charley Smith to create a community volunteer program to fulfill a goal Travis has had since he took office; to develop a greater spirit of cooperation and partnership within the community to improve communication within the county and enhance the sheriff's office's ability to serve citizens.
Eligible participants must either live or work in Denton County, have a valid driver's license, successfully pass a background investigation, and have no felony or serious misdemeanor convictions.
There is a minimum time commitment of 8 hours a month for volunteers in the program.
For more information on volunteering or for an application, contact Deputy Penny Campbell or Deputy Bob Hargenrater or call 940-349-1549.
"We have a great group of deputies and a great group of volunteers who are working with this program, and I look forward to working with all of them as the program grows and helps us further develop our community involvement, communication, and understanding," said Travis.