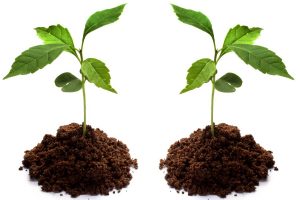 Every year, the Denton County Soil and Water Conservation District (SWCD) has a tree seedling sale.  This is a great opportunity to get affordable trees for a good cause. All proceeds benefit the "Cool Shade for Third Grade" program in Denton county schools in October. "Cool Shade for Third Grade" involves Master Gardeners and Master Naturalists delivering over 2000 seedling trees to third graders in Flower Mound, Highland Village, Argyle and other areas.
This program includes a short educational presentation about the importance and value of trees for water quality, windbreaks, soil protection, wildlife habitat and oxygen. The third graders take the trees home and have a first -hand experience of growing their own tree.  We hear stories from the older kids about how their own tree is doing when we return to the schools. Or sometimes a younger sibling tells us how excited they are to finally have their own tree to grow. It's a very rewarding program.
This year, the tree seedlings that are available for sale are Afghanistan pine, Austrian pine and Deodar cedar for $4.00 per 6-12 inch tall tree.  Also available are bare root pecans for $3.00. And there are one gallon potted trees for $9.50 which include bur oak, live oak, Mexican white oak, shumard oak, cedar elm, roughleaf dogwood, desert willow, Mexican plum and vitex.
Orders for the trees are being taken now and trees must be picked up on Friday, February 26, 2016, at the North Texas Fairgrounds in Denton from 9 am to 1 pm. Orders are reserved upon payment on a first come first served basis and quantities are limited.  Mail or submit orders to Denton County SWCD, 525 South Loop 288, Suite C-1, Denton TX 76205. Make checks payable to Denton County SWCD. If you have questions, call 940.383.2691 Ext 3 or visit the USDA Service Center in Denton.
And as always, contact us at Texas A&M AgriLife Extension with your garden and landscape questions at 940.349.2892 or email us at [email protected].
Janet Laminack, County Extension Agent-Horticulture, Texas A&M AgriLife Extension – Denton County, [email protected], (940) 349-2883 or Metro (972) 434-8812