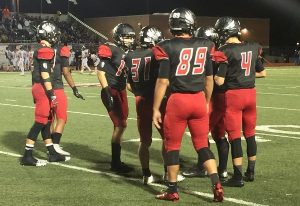 by Mitchell Mason
On a night where Argyle's seniors were honored, it was junior quarterback Dane Ledford who made most of the plays for the Eagles as they clinched yet another district title, routing undefeated Sanger 66-27.
Ledford was nearly flawless for Argyle (9-1, 5-0 district), going 19-20 with 269 yards passing, two scores through the air, and two scores on the ground.
The seniors also played a big role in the win, with RB Taylor Sweatt rushing for 111 yards and a touchdown, and the dynamic duo of Drew Estrada and Gage McCook combining for 208 yards and two touchdowns.
Sanger (9-1, 4-1 district) looked to be getting Argyle off the field quickly on the Eagles' first drive, forcing them to 3rd down, but Ledford found McCook wide open over the middle, and he did the rest, scoring from 72 yards out to make it 7-0 quickly.
Ledford would find McCook again on their next drive, doubling the lead to 14-0. Sanger responded, as QB C.J. Jackson scrambled and lobbed a pass to Braven Smith who was all alone in the end zone to put Sanger back in the game.
Ledford was facing constant pressure from the Sanger defense, but used great awareness and was able to dance around the pocket to find open receivers. He used his legs to score on Argyle's third possession, putting the Eagles back up two scores, 21-7.
The 66 points for the Eagles is the second-highest total for the year, with the most being 70 in their rout of Dallas Pinkston last week.
As Argyle captures yet another district title, they look forward to another postseason run, where they have reached the state championship game the past two years, winning it in 2013.
"We knew this was going to be a tough team," Sweatt said following the win, "but there was no doubt in any of our minds that we were going to win.
"This win launches us into the playoffs with high morale, and we're hungry for more."
Argyle will take on Lake Worth (4-6, 2-3 district) in their first playoff game next Thursday at 7 p.m. at Birdville ISD Stadium.