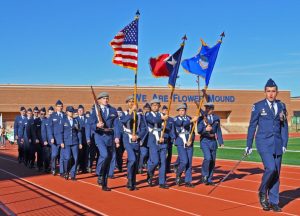 Flower Mound will honor local veterans in a special Veterans Day ceremony and family picnic on Sunday, November 8, at Flower Mound High School's football stadium.
The picnic will take place from 1 to 2 p.m.; free hot dogs, cake, and lemonade will be provided.
The ceremony begins at 2 p.m., and will include a Veterans Review, where approximately 200 local Boy Scouts, Girls Scouts and ROTC units parade before the Veterans in uniform.
ROTC units and Scout groups that would like to participate in the ceremony can apply online.