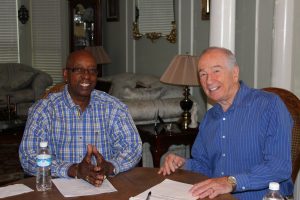 With all the bad publicity surrounding police officers in some cities across the country, our men and women in blue need some positive feedback from time to time.
Policing is a complex job because of the myriad ways in which cops must interact with a variety of people. Whether they're chasing down a robbery suspect, grappling with a home intruder, or issuing a traffic ticket to an errant motorist, they're always subject to physical injury, public criticism, or both.
As is true in every occupation, some cops are better at their jobs than others. However, unlike most occupations, when a police officer does something wrong it often becomes a news headline. Nevertheless, statistics show that only a small fraction of one-percent of all police incidents end in a possible violation by the officers involved. The overwhelming numbers of men and women who put on those badges and strap on those guns every day, do so with a profound commitment to protecting and serving the communities in which they vigilantly patrol.
Fred Whitfield, a member of the Lewisville Noon Rotary, came up with an idea to honor Lewisville police officers and their families at a dinner on Saturday, October 24, from 7pm to 11pm. Rich Muller, President of the Rotary, liked the idea so much that he and James Lee, another board member, selected a committee that includes Rotary Club members Dr. Audrey Stansbury, Marla Salerno, Kyle Shipp and Dylan Mobly. Fred Whitfield was selected to chair the committee. The event will be held at Lewisville High School-Harmon Campus auditorium, located at 1250 West Round Grove Road in Lewisville. The evening will include a dinner banquet, dancing and awards for police officers.
Several officials will be at the affair, including Lewisville Mayor Rudy Durham, Denton County Commissioner Bobbie Mitchell, Texas House Rep. Ron Simmons, Police Chief Russ Kerbow and many others. Several prizes, such as gifts, gift cards, etc., will be donated by the business community and will be awarded to police officers at the event. Additional info can be obtained by viewing the video below.

Bob Weir is a long-time Flower Mound resident and former local newspaper editor.