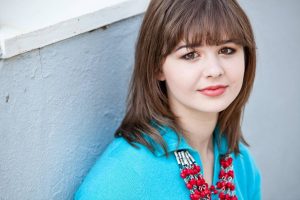 Liberty Christian senior Dara Fuller is a well-rounded student who is thankful for the opportunities to feel out what it's like to be an adult sans all of the pressure and responsibilities.
Fuller, 17, is a member of the Academic Competition Team, where she competes in literary criticism, and serves as the vice president of the National Honor Society.
"I have a variety of interests, and there is a lot that the school has to offer," Fuller said. "It's just my personality type that I want to experience different things. I want to help my community."
She has also competed at the state level in art and sculpture events and has won many awards along the way.
As a member of a service organization called IMPACT, Fuller mentors middle school students as they navigate toward high school.
What she enjoys most about being in high school is having the opportunity to mature and experience new things without having to carry the weight of the adult world just yet.
"I really enjoy kind of getting a taste of what the world is like, without actually having to be out on my own," Fuller said. "I have the time to prepare to move forward and go out in the world and learn new skills, but have on the training wheels to make it easier."
The Argyle teen helped found the school's student congress last school year, which she said provides her and other students with a unique experience.
"It's a really good way to stay up on current events and what is going on in our world, and just be able to argue both sides of a topic as opposed to having only one perspective," Fuller said.
The teen wants to go into medicine and one day become a neurologist. She's in the process of sorting out where she would like to attend college.
What she will remember most about her time at LCS is learning how to get along with other people.
"Being a smaller, private school, it has really instilled in me a sense of community," Fuller said. "Because you know everyone, you have to learn how to get along with people and be able to set aside any differences and really work together.
"You have to be capable of interacting with people of all different perspectives, personalities and beliefs, and I think that will be helpful in the future."
Fuller's Favorites
Favorite Subjects: Art and Biology
Person who most inspires me: My mother
Favorite Food: Sushi
Favorite Movie: Catch 22
Last Book Read: Under the Banner of Heaven
Favorite Musical Group or Performer: Foo Fighters