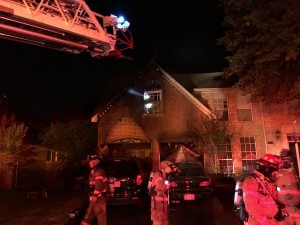 Flower Mound firefighters made quick work of extinguishing a blaze early this morning at a home in the 3400 block of Druid Way in the Glenwick subdivision.
The fire broke out around midnight in the garage of the two story home.
Three vehicles were damaged and there was smoke damage inside the house, according to Flower Mound Fire Chief Eric Greaser. No injuries were reported.
A man who lives at the house told neighbors that he believed a propane tank in the garage had exploded, according to social media posts.
Greaser said early Monday that the cause of the fire is under investigation.