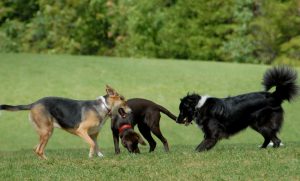 Highland Village City Council members discussed options for land to build a dog park at their October 13th meeting.
Property owned by Lewisville Independent School District behind McAuliffe Elementary in the Oncor power line easement had been used as an "unofficial dog park" for many years. LISD has closed the area due to health, safety and liability concerns.
At the September 22 meeting, Council directed staff to explore options to provide a dog park in Highland Village. A review of Highland Village park property was conducted by Parks and Recreation Director Linda Cornelius. The two best options are the current location, which would require a lease agreement with LISD and approval from Oncor, and LISD property at Harlington and Chinn Chapel, also requiring either a lease agreement or a land purchase.
City staff has met with LISD and Oncor to discuss the options and will continue to pursue alternative options for a dog park.
In other business, Council approved amendments to the Contractor Registration Fee portion of the Code of Ordinances. The amendment allows contractors to digitally register with the city on an annual basis, using the CityWorks system. This will provide an easier method for contractors to register with the city as well as a more efficient method for staff to track and administer registrations, officials said. Also as part of this amendment, the registration fee has been added to the official city fee scheduled maintained by the City Secretary's office, which will allow staff the ability to amend in the future by resolution. Contractor registration fees remain the same at $150 annually. The amendments to the ordinance are effective November 1, 2015.
Council made appointments to the Parks and Recreation Advisory Board. Appointments were made at the September 22 meeting; however one appointee to the Parks Board declined the appointment. Council moved Tamara Lisby from the Alternate 1 position to Place 5 of the Board, Adam Auten from Alternate 2 to Alternate 1 and appointed Kenneth Green as Alternate 2.
Council presented Assistant City Manager Ken Heerman with the Certificate of Achievement for Financial Reporting for the city's Comprehensive Financial Report. The city has been a recipient of this recognition for the last 22 years. The recognition is the highest tribute for government accounting and financial reporting given by the Government Finance Officers Association.
The HVTV Update (below) informed residents of the 8th Annual Fallen Hero Bike Race and 5K and Highland Village Restaurant Week benefiting the Fallen Officer Fund, the request for sponsorships for the 11th Annual Salute Our Veterans luncheon and the upcoming Fall Concerts in the Park at Pilot Knoll Park.
The City Council early work session and regular session is available on HVTV (Time Warner 16; Verizon 43) and via the website. The meetings are also available for on-demand viewing on the city website.