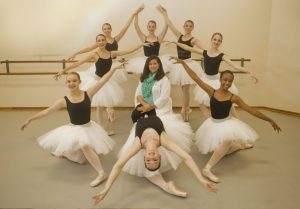 A temporary banner across the gray-columned building entrance exclaims "25 Years – Come Celebrate Dance with Us." The sign reflects the exuberance of the Ballet Conservatory's founding dancer Kelly Kilburn-Lannin and her business partner Mary Neel, both of the Lewisville/Flower Mound area.
Ballet Conservatory, and En L'Air, its dancewear store, near I-35E at FM 407 and Cain Drive, are celebrating their silver anniversary this year.
"I grew up in El Paso, a shy little girl who danced around the house," Kilburn-Lannin said. "My mother enrolled me in Barbara Pruitt's dance studio, and the rest of my life is, as they say, history."
Ballet replaced her shyness with self-confidence, nonverbal self-expression, memory skills, and personal organization. Later she studied with Toni Attel, then Ingeborg Heuser, a former dancer with Germany's famed Berlin Opera.
"All dancers in the ballet world can tell you their artistic genealogy," Kilburn-Lannin said. "After high school I migrated to the DFW area to become a dance student at Texas Woman's University."
A charter member of the Lewisville Dance Ensemble, which is now the non-profit Lake Cities Ballet Theater, she graduated, married, became the mother of a singer and kept dancing of course. After 7 successful years with the company she became its artistic director – which she still is today.
"I thought now and then about starting a dance school, but the business end of that project wasn't for me," Kilburn-Lannin said. "Mary, my non-dance MBA friend pitching around for a business opportunity, got the idea we should join forces and start a studio."  The Ballet Conservatory was born.
"Mary raised all the capital to get us started."  Kelly smiled and pointed at a row of retail shops across Justin Road from today's campus. "Our original home was right over there."
The current building was designed and built specifically for the dance world. Its five studios have special shock-absorbing, padded floors, mirrored walls, and barres. The central hallway's "wall of fame" is covered with breathtaking photos of long-limbed students and professional guest performers on the school and Lake Cities Ballet Theater stages (the MCL Grand in old downtown Lewisville, and Marcus High School in Flower Mound).
Ballet Conservatory's quarter century of life has been productive for local dance enthusiasts.
"We are an attractive venue for big name performers because, among other important things, we have a live orchestra," Kilburn-Lannin said.
Normally only famous companies have access to that option.
"In this year's Nutcracker we will feature guest artists Daniel Ulbricht, principal danseur with the New York City Ballet, and Sarah Lane the principal ballerina with the American Ballet Theater."
Not at all bad for southern Denton County!
Over the years Lake Cities Ballet has acquired ownership of the costumes, props and scenery for its annual performances of two sell-out shows: Dracula, which thrills and chills audiences every October, and in November, Tchaikovsky's Nutcracker just in time for the Christmas holiday.
"At one point we had 600 students on the rolls," Kilburn-Lannin said. She huffed a short breath to emphasize the amount of work that required.
Currently the school's 15 faculty members, all former professionals, conduct over 100 classes each week.
"We offer three levels of pre-ballet, and teach beginning, intermediate, intermediate-advanced, and advanced classical ballet," she said.
The school also offers instruction in jazz, tap, modern, musical theater, free-form contemporary dance and hip-hop (which boys really like). Enrollment hovers steadily at 350.
Hold your breath for these other offerings:
The Conservatory donates space and time to a Flower Mound homeschool music group.
Emily Wankier of Lewisville conducts the "Mommy and Me Movement" class which is pre-ballet for boys and girls around 3 years of age.
Bonnie Ambrose holds adult yoga and Pilates weekday classes at the Conservatory.
Deborah Weaver has a conditioning class to kids aged 11 and up.  Michelle Lawyer, the 2015 Denton County Reader's Choice Best Pilate's Teacher does Pilate's for kids middle school age and up.
The school also provides rehearsal space for the Lake Cities Ballet Theater.
Giving back to the community is certainly part of Ballet Conservatory's corporate culture.
Experienced dancers say there are three important things to keep in mind when selecting a school: technique, technique and technique.
"It's important that dancers develop correct posture and body alignment right from the start," Kilburn-Lannin said. "Unlearning bad habits later is hard. Classic ballet pays attention to the whole dancer: his/her feet, legs, core, shoulders, arms, hands, fingers, neck and head."
Some advanced dancers also move on their toes aided by blocked pointe shoes. This type of dancing lengthens the visual line of the leg and lends airiness to movement. It requires special training and physical maturity to avoid injuries.
There's a lot to master. With the exception of tap dancing most other professional dance forms in the western world are spin offs from ballet which was Louis XIV's brainchild 400 years ago. It may be hard to believe, but before the 1950s there was no professional ballet in the United States.
"Vaudeville dancing was called ballet, but it was roughly prancing around while balancing a chair between your teeth," Kilburn-Lannin said, shaking with laughter at the mental imagery.
Proper ballet has a strict style and movements based on the five foot positions. Each one has corresponding arm and hand positions. There is quick linked footwork on the floor, aerial jumps, stretch-legged arabesques and attitudes. If a dancer wants to turn she may pirouette with one still leg and the other positioned, or she may use one leg as a whip, or complicate matters by taking a step then turning.
Dream up all the possibilities then configure the dancers in solo, duet and ensemble on stage, and elicit ooh's and aah's from appreciative audiences. That's what the choreographer does for a living.
After the Conservatory most students go on to university and college dance programs.  Some join professional companies as stock dancers the artistic directors consider for open positions. A lot of the dancers move on to other things. One Ballet Conservatory alumna has become a doctor, and another went on to become a lawyer.
"It's an art form people love for the rest of their lives no matter what else they choose to do," Kilburn-Lannin said.
Check out the Conservatory in person by calling 972-317-0194 for a facility tour, a free placement evaluation class, fee schedule, a performance roster or all of the above. The whole school puts on a recital every year in June, and the 2015 editions of Dracula and the Nutcracker are getting underway.
The website is www.balletconservatory.com, and you can see pictures and get more information at www.lakecitiesballet.org.
Contact the writer at [email protected]