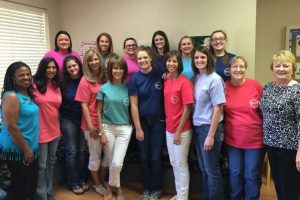 by Dru Murray
The mission of Community Partners of Denton County, Inc. (CPDC) is to alleviate the suffering of abused, neglected and destitute children by providing them with various needed items.
CPDC accomplishes that mission by operating its Rainbow Rooms and other programs.
This month marks the CPDC's 10th anniversary. In 1999, Lorraine Perry of Highland Village and Gwen Gary of Flower Mound, who both served on the board of Child Protective Services (CPS), formed a subcommittee dedicated to helping children.
The state encouraged the two to transform their subcommittee into a non-profit corporation. In 2005, they did and named it Community Partners of Denton County. Perry served as the organization's president for 15 years, but now is taking a break, taking a turn as an advisor on the CPDC board while also serving as president of the Denton County CPS board.
Gary is still serving as the treasurer after 15 years.
Lewisville resident Reginald Johnson is the CPDC's new president.
Perry operates a licensed daycare in her home and has a special interest in helping children, because she was a foster child.
"I grew up in Florida in foster care and wanted kids to have an opportunity to have a better life than I did," she said. "I thank God that I grew up in those circumstances so I could understand how important it is to take care of our children, who are our future.
She also explained that family income is not always an indicator of child abuse.
"We have had cases of child abuse in Highland Village," she said.
Before helping cofound the Rainbow Room Gwen Gary lived in Massachusetts.
"I had a couple of friends who were foster parents and became interested in helping. After undergoing training, I began reviewing foster care cases and later joined the Berkshire County DSS Board."
When she and her husband moved to Texas, Perry wanted to continue work in the field.
"I felt like I could help more children by doing this and became involved with CPS. I really feel like that has been a blessing."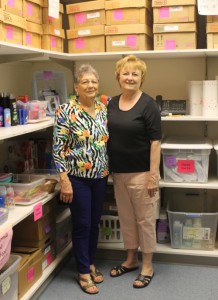 The manager of the Rainbow Room in Lewisville is Betty Bates, a longtime volunteer.
"I had retired and wanted to volunteer at something that meant something," Bates said.
She has worked at the Rainbow Room since 2004 and in appreciation of her efforts, the CPDC renamed it the Betty Bates Rainbow Room.
Three of Texas' 271 Rainbow Rooms are in Denton County. They work in conjunction with Denton County CPS.
Having the CPDC close by helps children in the care of CPS since the majority of them arrive in the clothing they donned that morning and have little else in their possession.
Rainbow Rooms also give items to kinship families, or families related to an abused or neglected child that they have taken into their homes.
"Kinship families may be grandparents, aunts and uncles or just good friends of a child's family. Whereas foster families have to be licensed, kinship families do not," Gary said. "Unfortunately, kinship families do not receive daily stipends from the state to help them financially as foster families do so their need is most always greater.
"Sometimes, taking on a child throws these families into bad financial straits. I don't know how many grandparents we have helped."
Last year, the three Rainbow Rooms in Denton County helped 1,200 children. Gary is grateful for all help the Denton County Commissioners and County Judge provide to the CPS Board in helping the children of Denton County.
The Rainbow Rooms provide each child with a week's worth of new clothes.
Each summer, CPDC runs a School Supply Drive, calling for donations of back-to-school supplies for children in CPS programs from individuals, Scout troops, and other organizations. Dropboxes are located outside each Rainbow Room location. The donated items are presented to CPS caseworkers in early August.
Around the holidays, CPDC gives Thanksgiving baskets to families that CPS recommends due to financial hardship. The Thanksgiving baskets are filled with turkeys, potatoes, rice, cans of vegetables and cranberry sauce, rolls, cake mixes, pies, coffee and tea, sugar, oil and flour donated by groups, individuals and companies
At Christmastime, these children can visit CPDC's Christmas Store stocked with gifts during the second week of December and each child receives a big bag of goodies for the CPS worker to deliver to the family.
Like any other non-profit organization, CPDC depends upon donations for its continued operation. To raise funds, CPDC sponsors Walking in Love, an annual 5K Walk/Run to End Child Abuse. This year, they even had more than 150 participants.
Kids First Pediatrics in Highland Village is a big supporter of the Rainbow Room.
"We had some t-shirts made and sold them to raise money for the Rainbow Room and our staff contributed items that they need on a regular basis," said Lisa Hobbs, Practice Administrator. "We have a drop box up front in our lobby where parents can donate needed items as well.
"We are all about kids so this is a great fit for us."
To help run its day-to-day operations, the organization welcomes the aid of volunteers. Currently, CPDC has about 50 volunteers. CPDC constantly welcomes the help of Scouts, churches and schools and other organizations to help them accept school supply donations to keep the Rainbow Rooms stocked.
For more information, visit www.dentoncountycommunitypartners.com.