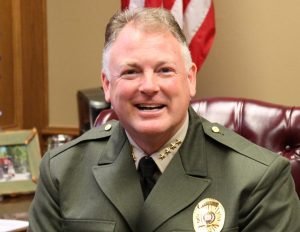 Republican William B. Travis on Thursday officially kicked off his campaign for re-election as Sheriff of Denton County.
The sheriff cited proactive law enforcement policies, as well as technological advances that have moved the sheriff's office into the 21st century, as reasons why Denton County is a safer community in which to live and work than it was three years ago.
"When I first ran for office in 2012, I promised to create strong partnerships with our local law enforcement agencies, to hire and retain the best deputies and staff available, to safeguard our tax dollars by finding alternate sources of income for the sheriff's office, and to put a greater emphasis on cracking down on human trafficking and crimes against children," Sheriff Travis said. "By any measure, my record over the last three years shows that's exactly what I've done."
On Sheriff Travis' watch arrests are up, while aggravated assaults, property crimes, burglary, larceny-theft, motor vehicle theft and arson are all down. Human trafficking has also been significantly reduced through collaboration with other law enforcement agencies, and by rescuing victims, particularly minors, who have been forced into prostitution and other crimes against their will.
Cracking down on drug dealers and getting drugs off our streets has also been at the top of Sheriff Travis' agenda since Day 1. The sheriff is responsible for the largest drug bust in Denton County history, and more than $100 million worth of K2, Methamphetamines, Cocaine, Marijuana and other illegal drugs have been confiscated.
As a result of these drug busts, nearly $1.7 million has already been deposited into the county treasury to help fight crime with millions more on the way from the seized assets of drug dealers. In addition, the sheriff authored the resolution and white paper opposing the legalization of marijuana in Texas which became part of the Texas Sheriff's Association's legislative agenda in 2015.
Much of Sheriff Travis' success in combating crime in an efficient and effective manner can be directly attributed to his prior experience in business, law enforcement and the military. An accomplished entrepreneur, Sheriff Travis was the founder of X-Ray Business Solutions, a venture capital firm. Prior to that, he was a Special Agent with the Drug Enforcement Administration, a Dallas Police Officer, a Boatswains Mate in the U.S. Coast Guard and a Security Police Officer in the U.S. Air Force. He is also currently a volunteer firefighter with the Argyle Fire District which serves Argyle, Bartonville, Copper Canyon, Corral City, Lantana and Northlake.
The sheriff is not the first person in his family to commit his life to the safety of his neighbors. The Travis family has been on the front lines in the battle to protect the lives and liberty of fellow Texans since the earliest days of our history. William's forefather commanded the fewer than 250 brave men at the Alamo in 1836 and held the Mission for 13 days against the Mexican dictator Santa Anna and 1,500 of his soldiers. From that point forward the Travis family has continued to serve the citizens of Texas as soldiers, as school teachers, as firefighters, as police officers and as community leaders.
Sheriff Travis holds a Bachelor of Public Administration Degree from the University of Mississippi. He is the proud father of a college-bound daughter and sits on the Board of Directors of the Cross Timbers Family YMCA in Flower Mound, the Heroes of Denton County and the Texas Jail Association, as well as the University of North Texas Department of Criminal Justice Advisory Board. Sheriff Travis and his wife, Shelley, reside in Argyle.
"I'm incredibly proud of what we have achieved in such a short period of time, but there is still much more to be done," concluded Sheriff Travis. "So with that in mind, I'm asking the people of this community for their continued support and their prayers as we work together to ensure that the Denton County of tomorrow is safe and filled with opportunities for our children and grandchildren."
Learn more about William B. Travis at www.WilliamBTravis.com.
Submitted by Sheriff William B. Travis Campaign.