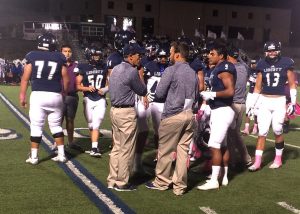 by Mitchell Mason
The Liberty Christian Warriors put together an all-around great performance, and rolled over Midland Christian 26-5 to win their 5th straight and improve to 5-1 on the season.
The Warriors started out in a tough spot, on their first offensive play, QB Nick Starkel's pass was picked off. The Warrior defense held tough, holding the Mustangs to just a field goal.
Starkel responded in a big way, leading the offense down the field, and capping it off with a Kyleb Howell touchdown run.
"After the pick, I was a little upset, but my whole team had my back and knew that we were going to come back from it." Said Starkel, the Oklahoma State commit.
The offense then continued to roll from there on out. On the next drive Starkel found Justus Lee on a 54-yard pass to extend the lead. The Mustangs would get back on the scoreboard however, as they blocked the PAT and returned it for 2, to make the score 13-5.
That score would hold going into the half. It was a a defensive battle for much of the 3rd quarter, until Starkel found Lee again deep, this time for 47 yards to extend the score.
The Warrior defense played lights out the entire night, not allowing any other score after the returned PAT.
"This win means a lot going into next week. We need to refocus and get better this week at practice." Starkel said following the victory.
Liberty Christian travels this Friday, Oct. 16, to take on undefeated Bishop Dunne.