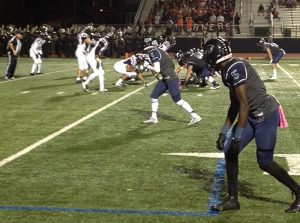 by Cole Carrick
With just under three minutes left, Lewisville blitzed a struggling Flower Mound offensive line.
A defensive lineman hit quarterback Noble Newton as he threw the ball, which was intercepted and virtually ended the game for the Jaguars, falling 26-21 to the Farmers.
Turnovers have plagued Flower Mound (1-6) all season, and Friday night was no exception. Newton threw two interceptions and lost a fumble, but these miscues cannot be blamed solely on the senior QB. The Lewisville defense found a mismatch somewhere within the Jags' offensive line, and they exploited it. All three of Newton's turnovers were forced by intense pressure from blitzing defenders.
While the Fightin' Farmers defense attacked the Jags' offense, there were plenty of plays being made on the opposite side of the ball. Sophomore Connor Lee and senior Chandler Claterbaugh highlighted a strong defensive performance from Flower Mound, even in the loss. While the Jaguars' offense had trouble keeping the football, Lee did just about everything in his power to get it back. An interception in Farmer territory on one drive, and a sack and forced fumble on the very next kept his team in the game right before halftime. Claterbaugh contributed to the cause in the third quarter, coming up with a sack on a third down in the third quarter, as well as a fumble recovery in the same quarter.
The Jaguars' offense didn't have a terrible game, however. Two passing touchdowns from Newton to go along with a rushing TD from Ifeanyichukwu Uzowihe gave the home team the lead going into the fourth quarter. But, a downed punt at the one-yard line put pressure on the offense to push forward out of the shadow of their end zone. Head coach Dane Johnson put Lee in at tailback to give the Jags a spark, but he was tackled in the end zone for a safety, which gave the Farmers the ball and cut the lead to two points.
After a Lewisville touchdown drive, Flower Mound had the ball and just under six minutes to score. However the defense was able to get to Newton once again, taking away not only the ball, but also the chance for the Jaguars to earn their first win at home this season.
The Allen Eagles, owners of the fourth-longest winning streak in the nation (49), will be the last team to visit Neal Wilson Stadium this season. The Jags may be underdogs to get that win, but coach Johnson and Flower Mound High School will look to get back on track next week at Hebron.