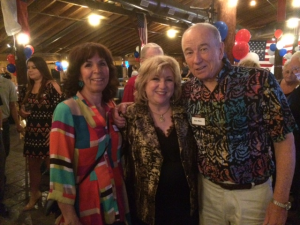 It's not an easy task to put together a gathering of more than 200 people and make it seem cozy and intimate. Nevertheless, that's what happened at Senator Jane Nelson's Annual 40th Birthday Party on Thursday night at the Circle R Ranch in Flower Mound.
It was like a family get-together with many familiar faces from across the county, all of whom came out to celebrate with their beloved District 12 State Senator, and her equally affable husband, Mike. The food and drinks were superior, and the band, Good Question, rocked the house with a variety of high-energy tunes from classic rock to rhythm and blues. By the way, the Nelson's cut some rug themselves on the dance floor with a spirited version of the bump and grind.
Many notables adorned the room, from elected officials to those applying for the job in next year's GOP primary. Incidentally, during a short break in the action, the illustrious Flower Mound resident announced her intention to run for reelection, followed by a thunderous standing ovation. Very seldom have I seen such genuine affection for an elected official. However, if you've spent more than a minute around Jane Nelson, you know why she's so admired and respected.
The former schoolteacher has been a strong leader in the academic and physical education agenda for Texas students. Moreover, she has been indefatigable when it comes to keeping our taxes low and welcoming new business to the Lone Star State. To all of that I would hasten to add that she makes everyone she meets feel like they're the most important person in the room. That kind of charisma can't be learned; it's a gift that's born out of an authentic love for people.
A good deal of the credit for the night's festivities goes to organizer extraordinaire Lynn Yeargain, another well-known and respected name in Denton County politics. Ms. Yeargain, the ideal ambassador at any group encounter, handled the gala with the adroitness of a behind the scenes executive producer. The result was an unforgettable celebration that left the participants with the joyous feeling of a fun-filled night out on the town with one of the most popular and productive legislators in the state, if not the country.
We are fortunate indeed to have this marvelous leader in our local orbit. Congratulations again, Senator Nelson, for a birthday party that will be long remembered!!
Bob Weir is a long-time Flower Mound resident and former local newspaper editor.