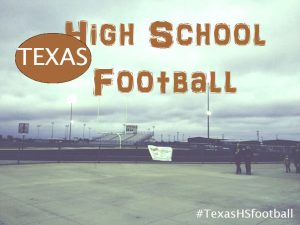 Battle of the Mound Shouldn't Fail to Disappoint
When the Marcus Marauders and Flower Mound Jaguars lock horns in football, records can usually be thrown out the window, and that should be the case again this season.
Marcus enters the game with a 4-1 record and coming off of a close game with the state's top ranked Allen, a game that was tied in the fourth quarter at one point.
Mitch Cason has passed for 983 yards and 10 touchdowns so far this season, while running back Nate Hopkins has rushed for 630 yards and seven touchdowns.
Stanford Commitment Kaden Smith has 540 yards receiving and six touchdowns.
Over at Flower Mound, the Jags are 1-4 heading into the game and lost a tough one to Plano last week by a score of 36-31.
Noble Newton is a dual threat for the Jags at quarterback, passing for 1,190 yards and nine touchdowns and rushing for 461 yards and three touchdowns on the season.
Marcus holds a 3-2 edge in their last five meetings and won last year by 10 points over the Jaguars.
The game starts at 7:30 p.m. on Friday and the Marauders are the home team.
 Liberty Goes For Third Consecutive Shutout
Liberty Christian will host Bishop Lynch at 7:30 p.m. on Friday and will be trying for its third straight shutout in as many games.
The Warriors are coming off of a 21-0 victory over Melissa, followed by a 20-0 win against FW Nolan to open up district play, and have done so largely on the back of a strong passing game and stout defensive effort.
The quarterback/receiver combination Nick Starkel and Justus Lee have combined for more than 400 yards and four touchdowns, and the defense has surrendered an average of just 191 yards per game and come up with four interceptions in the last two weeks.
Bishop Lynch is 2-2 heading into the game and coming off of a 38-21 victory over Midland Christian.
Lynch can score some points, but the Warriors appear to be a tough team to beat this year.
Guyer Looks to Improve to 2-0 Against Struggling Northwest
The Guyer football team will look for a 2-0 start this Friday when it plays hosts Justin Northwest at 7 p.m. at the Collins Athletic Complex.
The Wildcats are 3-1 on the season and have scored a total of 106 points over its last two games.
Quarterback Shawn Robinson has combined for 827 yards of total offense and six touchdowns this season, while running backs Christian Moore and Noah Cain are averaging about eight yards a carry with four rushing touchdowns a piece.
Running back Myron Mason was also a huge factor in last week's victory over Keller, scoring three rushing touchdowns and one special teams touchdown, when he returned a kick off 100 yards for a score.
Northwest played better last week than it has all season in a 27-26 loss to Keller Fossil Ridge, but did prove susceptible to big plays.
If Guyer can exploit that, it could be a long night for the Texans.