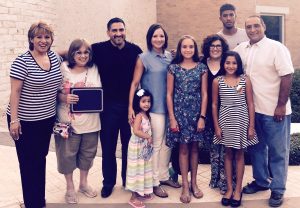 The Sedillo family of Highland Village will always remember the date June 1, 2015. It's the date the family home burned to the ground. It's also the date that Mikaela, 12, became a hero when the seventh-grader noticed smoke coming from the ceiling and got her two younger sisters out of the house safely.
"Mikaela had learned what to do in case of a fire back when she was in fourth grade through the fire safety education at Highland Village Elementary and the Flower Mound Fire Department S.A.F.E. (Safety and Fire Education) Team," said Misty Sedillo, Mikaela's mother. "Back in 2012 when she learned what to do if there's a home fire, we actually did a diagram of our home and had an escape plan and practiced it, including the next-door neighbors. She's that typical first-born child who takes things seriously and is very responsible."
Mikaela, who had registered for the Red Cross-sponsored babysitting class in June, was home watching her sisters, Micah, 9, and Mia, 3. The girls' dad, Mike, was just down the block at a neighbor's house and Misty was in a teacher-parent meeting. Mikaela was actually on the portable home phone talking with her father when she noticed the smoke. After she got her sisters over to the neighbor's next door, the police and fire departments were contacted by the neighbor; the family phone was too far away from its base.
"Even though the police and firefighters arrived immediately, the house was completely on fire," said Sedillo. "Apparently, the fire had started in the attic from some kind of electrical thing, but it reached a small propane tank on the back of the house and that exploded. The insurance and fire department ruling was 'accidental-undetermined.' Everyone was safe, including our family dog, Maverick, because of Mikaela."
The family had been living with friends up in Denton for two months, until they were able to reach the top of a wait-list to move into a townhome in the area. They hope to rebuild their Highland Village home and be able to move in by spring 2016.
Mikaela was recognized for her heroic efforts during the August 11 City Council meeting.
Highland Village Fire Chief John Glover introduced members of the Flower Mound S.A.F.E. Team who were also in attendance. He explained that the S.A.F.E. Team is composed of professional firefighters who use a combination of slapstick comedy, fast-paced humor and a nationally-developed curriculum to deliver safety programs in community schools.
Mayor Wilcox, the City Council, the Flower Mound Fire Department S.A.F.E. Team members, Chief Glover and the Highland Village Fire Department congratulated Mikaela for her heroism in remembering her lessons from the SAFE Team that everything, except for the lives of herself and her family, can be replaced.
"Today we are here to honor Ms. Mikaela Sedillo. She took the appropriate action, not only to preserve her life, but also her younger sisters' on that afternoon," said Glover. "That makes her nothing short of a hero in the eyes of the community and the eyes of the fire department."