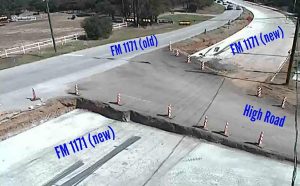 Motorists on FM 1171 in west Flower Mound will make the switch to brand new pavement late this week.
Starting at 9 a.m. this Friday, October 2, traffic on FM 1171 between Shiloh Rd. and Post Oak Rd. will be transitioned from the existing pavement to the adjacent newly-constructed roadway.
Here are some important facts drivers will need to know:
•In order to connect High Road and Chimney Rock Drive to the new roadway, the contractor will need to bring the driving surfaces to the same height  resulting in the complete closure of both intersections for a period of time (emergency services will have access at all times).
•Contractors will begin on High Road, completely closing the intersection for roughly 20 minutes. When the work is complete, outbound traffic will then have access to FM 1171; however, motorists going inbound on High Road will not have access between 9 and 11 a.m.
•Once work is complete on High Road, the crews will perform the same work on Chimney Rock Drive, which will be fully inaccessible to motorists up to one hour.
•Once these intersections have been prepared for new traffic conditions, crews will transition traffic on FM 1171 to the new roadway.
TxDOT and the Town of Flower Mound ask drivers to use extra caution and patience as this transition is made.