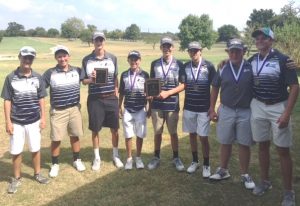 by Vivian Nichols
On Sept. 22, the Liberty Christian Junior Varsity Boys golf teams competed at the Denton High School Classic at the Texas Women's University golf course, along with Liberty Girls golfer Ellie Fellers.
The Boys Navy team won the tournament, and the Boys Gray team took second.
Tanner Lawson won the individual boys tournament with a score of 80. On the girls' side, Ellie Fellers contended with 15 girls from other schools in the area to win the individual girls tournament. This tournament is her second of the year, and in her first tournament, she won second place.
"I am excited for the great way we have started the season," said Coach Brock Burroughs said. "Winning a tournament brings a lot of confidence to our team as we begin with year.
"I look forward to the rest of the season as we begin to see the enormous amount of potential these golfers have."
The Boys Navy team includes Luke Foster, Dawson Fuller, Drew Stevens, and Garrett White.
The Boys Gray team is comprised of Cole Collins, Cade Curtis, Tanner Lawson, and Josh Veler.
Vivian Nichols is part of the communications department at Liberty Christian School.