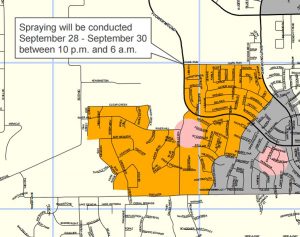 The Town of Flower Mound Environmental Health Services Division has confirmed a mosquito sample collected in the 4700 block of Flower Mound Road in west Flower Mound has tested positive for West Nile virus.
This is the twelfth mosquito samples found in the town this year.
Spraying operations in the approximate one-half square-mile radius surrounding the specified area will take place, weather permitting, Monday through Wednesday, September 28 – 30, between 10 p.m. and 6 a.m.