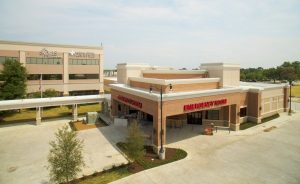 Medical Center of Lewisville is inviting the public to celebrate the opening of its new Emergency Department (ED) this Saturday prior to the official opening of the $17 million 24-bed facility.
"We are excited to welcome patients to our new Emergency Department," says Sharn Barbarin, Chief Executive Officer at Medical Center of Lewisville. "This ED is the latest example of our dedication to growing with the community and providing family-focused, quality care closer to home."
The hospital has been a part of the community for nearly 40 years.
The new Emergency Department features the first and only Pediatric ER in Denton County.
"This area is very family-oriented. About 35 percent of the patients we see in the ED are children, which is higher than the national average," says Dr. James Doyle, Emergency Department Medical Director. "This, along with input from the community, led us to create a Pediatric Emergency Department to best serve our patients."
The pediatric ED features a separate entrance, waiting room and six designated exam rooms not utilized by the adult ED. The staff includes pediatric-trained emergency physicians and nurses, and child life specialist support. Additionally, MCL partners with Medical City Children's Hospital (a sister facility within the HCA North Texas Division) to provide high level pediatric specialty services.
"Excellent nursing care has always made this hospital stand out from other facilities," says Dr. Doyle. "This is the last piece needed to make Medical Center of Lewisville stand out as the world-class facility that it is."
In addition to the pediatric ED, the new department includes two trauma rooms, 16 private adult exam rooms, imaging services, and lab technicians dedicated to the ED to insure fast results.
To celebrate the opening of the new Emergency Department, the hospital will host a Community Open House on Saturday, September 26 from 1– 4 p.m. The event includes tours of the new department, a teddy bear clinic, emergency vehicles, an Xtreme Game Truck and delicious Kona Ice. Attendees can register to win a His & Her Apple Sports Watch Package. More details can be found on the hospital's website at www.lewisvillemedical.com/er.
The new emergency department will open at 7 a.m. on Monday, September 28.