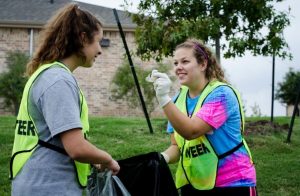 Collecting trash may not be your ideal way to spend a weekend, but in Flower Mound, that's exactly what volunteers will be doing this month to help keep the town clean.
On September 26, Keep Flower Mound Beautiful is holding its annual Fall Trash Bash & Environmental Health Fair. Volunteers will meet at 8:30 a.m. in the Home Depot parking lot, where they will be outfitted with bags, gloves and other tools for picking up trash.
This year, targeted cleanup areas include parks, trails, creeks and roadways. The pickers will bring back their findings to dispose of. Lunch is served and door prizes will be doled out. An environmental information showcase will also be set up.
"This fall we're hoping that we'll be able to pick up a lot of trash from the flooding that happened at Murrell Park," said Marilyn Lawson, chairman of the KFMB board.
"Not only is it cleaning up our town, it's teaching kids hopefully not to litter. I have had people at Murrell Park picking up dirty diapers and the kids will go 'Ewe.' We're hoping to teach them not to do that, and tell their parents not to do that."
The event is being held in conjunction with National Public Lands Day. Volunteers can register online through kfmb.org.
A health fair happening at the event is intended to help promote environmentally friendly health-related practices, like eating organic food. The Town of Flower Mound will be on hand also to provide information about trees and water conservation. Other nonprofits are also expected, Lawson said.
Last year, those included the Backyard Chicken Collaborative, Camp Gladiator, Cross Timbers Bee Keepers and the Flower Mound Humane society among a couple dozen others.
Best Buy will be collecting electronic waste from Flower Mound residents, and Shred-It will be on hand to provide free document shredding. Christian Community Actions will be collecting clothing, housewares and food for their pantry. Carter Blood care will host a blood drive.
Additionally, the second annual faceoff between the Flower Mound Fire Department and the Flower Mound Police Department will have members trotting through an obstacle course designed by a personal trainer.
Last year, the FMFD took the win and a large trophy for its efforts. Police will also be out doing child seat safety checks.