It's a 3-day weekend which means you have even more opportunities this weekend to try out some great, local restaurants! So, in an effort to give you plenty of options, we're recapping our most recent Foodie Friday destinations this week.
And if you discover a great healthy option while you're at one of these restaurants, be sure to let me know! Because you know I'm always on the lookout for Jay's next healthy choice!
Sushi Go (2021 Justin Rd #240, Flower Mound, TX 75028)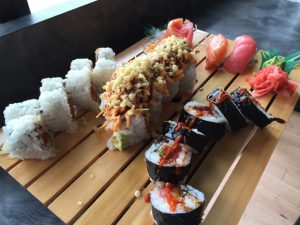 This was a very special Foodie Friday outing for our team because after almost two years, I was able to convince Kari to go try sushi with me – and she loved it! Sushi Go is now a Jay Marks Real Estate favorite – we love that we can go into their restaurant to eat in person or that we can have them deliver.
Everything is made-to-order and is extremely fresh. Plus, it's really affordable! Each time we've gone in, we've met some of Sushi Go's regulars who tell us they go in at least two or three times a week for sushi. I think my personal favorite roll is the Angry Wife made with salmon, tuna, snapper and jalapeno.
Even if you've never tried sushi before or swear you're not a fan, Kari is proof that Sushi Go can make a sushi believer out of anyone! So, go try it out this weekend!
Coppell Deli (449 West Bethel Road, Coppell TX)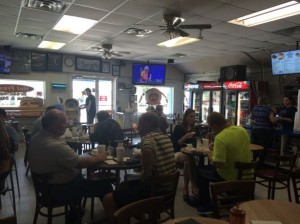 If you're looking for a delicious burger this weekend and you don't want to grill one for yourself, Coppell Deli is one of the great burger joints we've visited in the last few months. And if my endorsement of this place isn't enough … how about the endorsement of the entire Dallas Cowboys franchise?
Owner Jay Khorrami first opened his doors in 1989 and has been serving up some of DFW's finest burgers ever since. There's even a legend that his hamburgers are what helped the Cowboys start winning Super Bowls! They've got everything from a classic cheeseburger to their California Burger topped with bacon and avocado.
But they're most famous for their Stubb's Special (named after Danny Stubbs) which is a sandwich loaded up with scrambled eggs, bacon, sausage and cheese between two pieces of Texas Toast.
Zenzero Kitchen (171 N. Denton Tap Road, Coppell TX)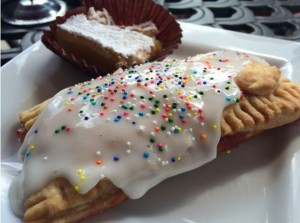 Ever since Dolce Cafe closed down, I'll admit there's been a little hole in my heart. I found myself missing their fresh salads and pastries, so our team set out to find a nearby alternative.
And we ended up at Zenzero Kitchen in Coppell! Owner Ginger Blazek serves up delicious and fresh breakfast/lunch/dinner options and TONS of scrumptious baked goods. We ended up out there at breakfast so we tried out some of their breakfast sandwiches including the Honey Butter Chicken Biscuit. My favorite thing we tried while we were there?
The Gooey Buttercake – hands down! It's an old St. Louis favorite made with butter, cream cheese and yellow cake. It's so gooey and buttery and delicious… you need to head out this weekend to get some! Your Labor Day guests would definitely thank you if you had some at your barbecue on Monday!
Verfs Grill and Tavern (2221 Justin Road, Flower Mound TX)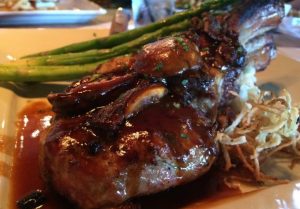 If you're looking for someplace that's a little more dressed up for your Labor Day weekend festivities, Verfs is a perfect option! It's a very comfortable environment with incredible food! Kari and her husband are actually headed there this weekend to celebrate their first wedding anniversary – that's how good it is! If you go, I'll give you a few suggestions of things you must order.
First, you must start off with "The Bread" which owner Jim Verfurth's sister actually created – it's artisan bread scored and stuffed with cheese, garlic butter and green onions and then they bake it until it's what you'd call "pure buttery melted goodness."
Then for your main course I would definitely recommend the Bone-In Pork Chop covered in a wild rosemary mushroom sauce and served with garlic mashed potatoes and asparagus. To die for.
And then for dessert? I wouldn't let you try anything else but their signature Drunken Donut which is a cinnamon-sugar donut filled with a frangelico cream. You'll love this place – my mouth is watering just telling you about it!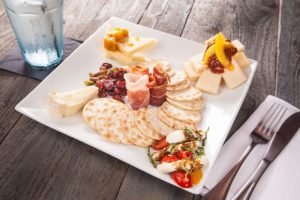 Moviehouse & Eatery (951 Long Prairie Rd, Flower Mound TX)
Labor Day Weekend is also a great opportunity to catch up on all those Summer blockbusters you missed out on! If that sounds like something you'll end up doing this long weekend, may I suggest you head to the new Moviehouse & Eatery located at Lakeside DFW?
Not only is it an extremely comfortable place to watch a movie with its leather reclining chairs, but they also serve really delicious food! Some of it may not be what you'd expect when coming to a movie theater with options like their Seasonal Date Plate served with sharp cheddar, Asiago, triple cream Brie, fresh mozzarella and prosciutto cheese along with chili-marinated mango, tomato-peach chutney, fresh tomatoes and a balsamic reduction.
Or you can go with something a little more movie-theater-traditional but with a twist – like their ATX Tommy hot dog served on a pretzel bun and topped with a horseradish aioli, chopped bacon and queso blanco. They've got lots of sweet treats to choose from as well like classic Root Beer floats, Icees, fresh baked cookies and their fudge mascarpone brownie.
Big Daddy's Ship Store (2500 Oak Grove Loop S, Grapevine TX)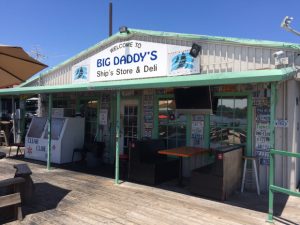 Here's the second of our Labor Day burger options for you – and the great thing about Big Daddy's is that it's located right on Grapevine Lake! So, you can take the boat out and pull right up to this restaurant or just head over there to enjoy a nice lunch in their outdoor eating area overlooking Scott's Landing Marina.
This was probably the most meaningful Foodie Friday feature of the summer as Big Daddy's was just getting back on their feet after having to close their doors due to all the flooding.
So, we definitely recommend you head out there this weekend to continue to support them. They serve up some delicious burgers and sandwiches but they also have some incredible-sounding grill items like their Shrimp & Grits made with polenta, fish tacos and baby back ribs. Keep an eye out on their Facebook page for announcements regarding live music, food at their outdoor grill and fireworks!
Dido's Urban Grill (1900 Long Prairie Rd, Flower Mound TX)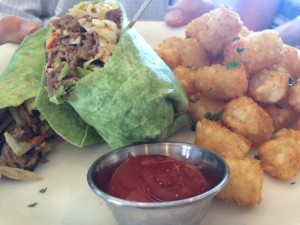 I was sad to hear that another of my local favorites, Bocelli's, was leaving Flower Mound. But I was also excited to learn that Dido's Urban Grill would be taking its place! This restaurant is a total family affair. Chef Owner, Gary DiDominick, moved to the area with some convincing from his mom. And she encouraged him to finally realize his dream of opening his own restaurant.
So, with the help of his parents, Gary's dream has come true right here in Flower Mound! And that family feeling carries throughout the restaurant and in their food. Some of my personal favorites from our meal at Dido's were their Chicken and Waffle Sliders, their Grilled Summer Chicken Salad and their Fried Fluffernutter. What's a Fluffernutter you ask? It's essentially a fried peanut butter and banana sandwich served with a berry coulis and it's absolutely delicious!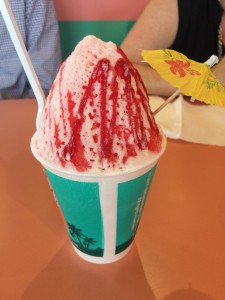 Bahama Buck's (2320 South Valley Parkway, Lewisville TX)
It looks like we'll be back to breaking 100 degrees this weekend, so I'm sure you'll want something to cool you down after spending all day by the pool. Which leads me to our final Foodie Friday spot of the recap – Bahama Buck's in Lewisville! I've had the opportunity to meet this location's owner, Brent Daniels, at some Chamber events and he is a wonderful man. Which is why I believe his store is such a well-oiled machine!
You can stop into Bahama Buck's this weekend to play some board games with the whole family or start a game of tetherball. They've got something for everyone with menu items like their traditional shaved ice, smoothies and Frostallates. It's certainly a great way to beat the heat!
Jay Marks writes the Foodie Friday column each week. You can read his blog at http://iamjaymarks.wordpress.com