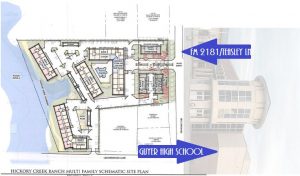 A proposed 225-unit housing complex is planned to be built near a south Denton high school and some are saying that's exactly where it shouldn't be.
The Hickory Creek Ranch Apartments are being developed by Marksman Teasley, LLC on property situated just west of FM 2181 between Old Alton Drive and Leatherwood Lane.
Parents are saying a multi-family complex would bring in more traffic to already clogged streets, making it more difficult for student drivers, buses and parent drivers to access Guyer High School.
The school is just across the street from the proposed complex. Lantana schools feed into Guyer High.
"In a fast growth district with road construction abounding, we always seem to have traffic issues," said Jamie Wilson, Denton ISD superintendent. "We constantly work with local law enforcement to mitigate traffic issues at all of our campuses.
"We ask our students to carpool, stagger arrival times and other items that may decrease the amount of traffic on our roads."
Preliminary plans show seven main buildings, including town homes, apartments, a pool courtyard, a dog park and garages. Thomas Fletcher, attorney for the developer, said the apartments will be priced at market rates.
According to the website apartments.com, rental rates for apartments in Denton range from the low $600s to well over $1,000 per unit. Fletcher said none of the units in Hickory Creek Ranch would be government subsidized.
Traffic woes
Sharon McGill lives on Old Alton Drive and her property backs up to where the apartments would be. Guyer High School was named after her father.
"The traffic of course … is just incredible," she said. "It's just really overwhelming. We can barely get off our street at the present time."
According to McGill, 8:30 a.m. and 4:30 p.m. are peak traffic times due to school buses and cars. She sees frequent wrecks on Teasley Lane because of the traffic.
Also, three Denton city police officers are out in front of the school three times a day. More traffic could force a need for more law enforcement out there, McGill said. Twitter feeds dedicated to monitoring traffic near Guyer High manifest irritation some drivers have over the gridlock.
As a real estate agent, McGill goes in and out of her cul-de-sac, Old Alton Estates, and said getting home is quite a difficulty. Now a grandmother, McGill no longer has children at Guyer. In her experience, as apartment complexes age activity begins to happen that would not be suitable for teenagers.
"I would not want my grandchildren to be across the street," she said, adding that more traffic would not be good for inexperienced student drivers.
"Sophomores just turned 16, they're just getting their licenses," she said. "That's the last thing they need."
Henry Key lives down the road from McGill. He's a retired builder who was present at a meeting developer David Marks held for residents near his proposed 10-acre apartment complex.
The rub, at this point, is that 1.7 acres of his property is located within Denton city limits and is zoned for primarily residential use, with an average of two homes per acre. That won't allow for apartments.
Marks is requesting a change in zoning to NRMU, or neighborhood residential mixed use. This type of zoning allows for town homes and limited multi-story apartments with higher density.
The city's planning and zoning board will address the request at its September 16 meeting and is scheduled to go before city council for potential approval on October 10.
Key noted that the development plan shows 1-, 2-, and 3-bedroom apartments an average of 900 square feet in size. He is concerned that the higher stories will look directly onto the 2-to-7-acre lots, like his, along Old Alton Drive.
While he's not sure what the city planners will do, Key believes that if the entire complex were located within city limits it would not be approved. His feedback from city planners is that they don't like the project. The CTG left several messages seeking comment from city planners, but none have been returned as of Wednesday afternoon.
Like McGill, Key is also worried about the added traffic this project would bring.
"It doesn't need to be right across from the high school," he said, adding that when students are arriving and leaving Guyer, it might be a wait for him to get out onto Teasley.
"I might wait 5-6 minutes just to make almost a suicide turn to make a left," he said. "It's something that I don't think anyone but the developer wants. It has the potential to hurt a lot of people."
Overcrowding at Guyer High
Some parents have also voiced their concerns about what they say is overcrowding at the high school, worried that more families would mean more students.
Right now, Guyer High has a max capacity of 2,600 students. Enrollment this week is 2,485, Wilson said.
"We have planned for such growth in enrollment," he said.
In 2013, voters in the Denton ISD approved a bond referendum including the construction of a 9th grade addition to the school. It will increase the school's capacity to more than 3,000 students.
Trustees receive a monthly demographic growth report of the district every three months.
"As a school district will have little control over residential zoning, multifamily developments, single family developments, etc.," Wilson said. "We are proactive in our planning, and our constituents are informed of such planning at our quarterly bond progress committee meetings, our board meetings and our publications.
"Our school system is here to serve our families and our community. Our partnering municipalities are well aware of the impact multi-family developments have on our schools and our cities' infrastructure. Once those decisions have been made we collaborate with those same municipalities to mitigate any unforeseen circumstances."
The CTG reached out to Guyer parents for their response to the proposed development and its impact on the high school, but was unable to secure interviews for this story at this time.