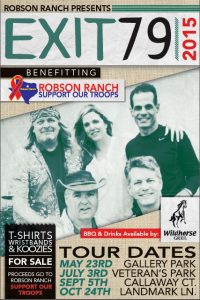 Robson Ranch's band Exit 79 will be hosting an outdoor live music event this weekend as the third stop on a mini-tour benefiting the volunteer group, Support Our Troops.
The first two events brought 300-400 out for an evening of old time rock 'n roll, dancing, refreshments and relaxing fun under the stars.
It all starts at 7 p.m. Saturday at the Gallery Park at Gallery and Glenbrook, located at the west end of the community.
The Wildhorse Grill will sell soft drinks and have a barbecue stand. You can also bring a cooler with your own refreshments if you like, along with blankets and lawn chairs.
Exit 79 and Support Our Troops will be selling merchandise as a fundraiser for Support Our Troops.
See more at Facebook.com/Exit79.