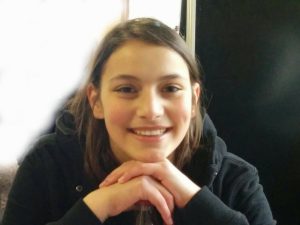 UPDATE: Sommer Ross, 13, of Flower Mound, who has been missing since Thursday afternoon was found Sunday afternoon before 4 p.m. in Flower Mound, according to Flower Mound Police Capt. Wess Griffin.
"She is safe and in police custody. Out of respect for our family's privacy I am not giving any specific details but she is safe," said her aunt Robin Toon.
——————————————–
ORIGINAL STORY: Sommer Ross, 13, of Flower Mound has been missing since Thursday afternoon. She was last seen leaving Shadow Ridge Middle School, alone and on foot, according to her family.
"She got a pass to the bathroom at 3 p.m. and left the school at that time. She left her things in class," said her aunt, Robin Toon. "She was spotted by [the] Moviehouse & Eatery on surveillance camera at 3:07 [p.m.] Thursday. She did go home and take her laptop and some of her things."
Toon said that Ross and her family recently moved from Coppell to the Lakeside DFW development in south Flower Mound.
Flower Mound police took the report on Thursday afternoon and searched the Lakeside DFW area.
Toon said Sunday that police are following up on some leads.
"They are finding some Internet activity from her laptop that took place Thursday night so they are trying to see if they can get an IP address to pinpoint her location at the time. They now also think she may be with another girl she knows that is not from this area," said Toon.
"They have found and spoke to someone who gave her a ride to McDonalds where she waited and got into a white car with dark tinted windows. The guy who gave her a ride to McDonalds said she mentioned going to Frisco."
Toon said that police are also working to trace a cell phone number that could lead them to Ross.
"They also have a possible cell phone number to trace connected to an online account she created Thursday. Her parents have shared the info with FMPD and they are pursuing that but said it could be Monday before they can do anything. They have to get the info from the account she created which includes a cell phone number. At this point we only have the last two digits. The police have to contact Facebook to get that info first."
If you have seen Ross or know of her whereabouts please give the Flower Mound Police Department a call at 972.539.0525 or the anonymous tip line, at 972.874.3307.