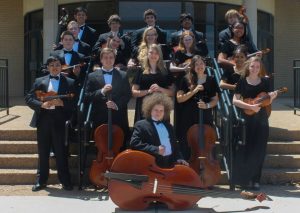 Three Marcus High School students recently placed in the Arlington Youth Symphony's (AYS) Symphony Orchestra.
The AYS Symphony Orchestra is a full orchestra reserved for outstanding string, wind and percussion players whose technical level is highly advanced, who show strong musicality and musicianship, and who are capable of the discipline necessary to perform in a top-level orchestra, according to the AYS website.
The three students named to the AYS orchestra were:
Jimmy Calabrese – Marcus High School Orchestra Viola (AYS Symphony Orchestra)
Drew and Jessica Porter – Marcus HS Orchestra Violin (their second year with the AYS Symphony Orchestra)
In addition, Downing Middle School Orchestra Violinist, Kyle Porter, is in his second year with the AYS Junior Symphony Orchestra.