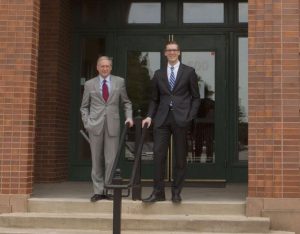 by Stephen English
When Lewisville ISD schools opened their doors August 24, over 300 students weren't there.
Instead of returning to their former classrooms, they'll become the inaugural student body of Founders Classical Academy, a new charter school in Flower Mound's Parker Square.
And they'll be doing things a little differently. As the name implies, Founders specializes in providing a classical education. That means that, like its sister schools in Lewisville, Dallas and elsewhere, teachers will follow an approach that school leaders say is more akin to the way education was done for nearly the first 200 years of U.S. history, and that traces its origin to classical Greece and Rome.
It's an option that is increasingly popular in the Flower Mound area. The main reason for opening the school is that the Lewisville location has a long waiting list. The Flower Mound school helps, but the new school, which will teach kindergarten through fifth grade this year and will expand to all grade levels over the next few years, filled up quickly.
"There actually is [a waiting list]," headmaster Sam Vanderplas said. "We've been really overwhelmed by the parent response. Of course, we're grateful for it, it's a good problem to have. We have 330 seats this year and they've been full for over a month. Our waiting list just broke a couple hundred."
Operated with public funds, the school cannot select students and charges no tuition. When there are more applicants than seats, the school uses a lottery.
Rachel DiFurio attended public schools in Maryland in the 1970s and 1980s before graduating with a degree in elementary education from the University of Delaware. She teaches second grade at the Founders Lewisville school and said the classical approach is radically different from what she grew up with.
"In all of my education and experience, I was never exposed to the classical approach used at Founders until I worked there. Having taught second grade there for three years now, I see there are a lot of differences between not only what I learned but the way I learned it," DiFurio said.
"I don't remember ever being excited about, nor do I remember, much of what I learned in second grade. What I do know is that we learned the whole language approach without any emphasis on phonics or understanding of how the English language works. I couldn't tell you what we read because they were fluffy stories that went with a specific reading program. New math kept replacing old tried and true techniques and left me more confused."
And what DiFurio teaches now couldn't be more different from what she learned, she said. Along with the Riggs phonics approach to language instruction and Singapore math, students study topics such as ancient Greece, China and India; the U.S. constitution and Civil War; the civil rights movement and literature ranging from Charlotte's Web to an abridged version of The Illiad. And rather than study them in isolation, students are shown how the topics are related to one another.
"For example, when we learn about Westward Expansion in history, we read aloud Little House in the Big Woods and memorize 'Buffalo Dusk' by Carl Sandburg," she said. "In addition, we study simple machines in science using technology from that era comparing it to today.
"We study 'tall tales' and go into the purpose they served for the pioneers, as well as study Elijah McCoy and his contribution to the railroad as an African American inventor and engineer. Even art and music are tied into what we are learning."
This approach, DiFurio said, is also giving students "foundational lessons on character, virtue and civic duty."
Virtue and citizenship are important aspects of the Founders approach to education, Vanderplas said. "Parents want their children to turn out to be good people," the headmaster said. "Those two things — knowledge and virtue — that's what we focus on and that's what we find most parents are seeking when they come here.
"We view it as an act of patriotism to prepare the next generation to exercise their responsibilities [as U.S. citizens] as well," Vanderplas said.
The headmaster said that while a school with students in uniforms, which takes education seriously, might sound a bit stodgy, Founders schools are still full of children and still have all the energy that implies — if more of a focused energy.
Scott Davis is the National Director of Classical Schools at Responsive Education Solutions, the company that owns Founders and the largest charter school district in Texas. He said the main appeal of a classical education is that it is time-tested.
"In our world, in our country — in our cities, our towns — when you utilize technology, it changes every day, it's hard to keep up with. When you go to church — churches are different, they look and feel much different today," Davis said.
"The things we study in school, the methodology. The pop culture, the politics in our country — all of these things can make it feel like we're in this fast-flowing river that is ever-changing. So when parents ask what they want for their children, they ask themselves if they want the latest experiment, or to trust something that through the experience of centuries has stood the test of time."