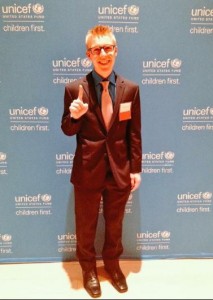 by Pam Arrington
Hayden Little, a 2015 graduate of Argyle High School, represented the United States this summer as a delegate through UNICEF at a high level international conference that was hosted by the government of the Republic of Tajikistan.
The conference took place in June in Dushanbe, Tajikistan and was titled "Water for Life." The primary goal of the conference was to facilitate a comprehensive discussion on the implementation of the International Decade for Action "Water for Life," 2005-2015.
The conference provided an opportunity to discuss the successes and challenges of the International Decade. Recommending further actions to be taken after 2015, the conference will contribute to future discussions on the sustainable development goals related to water sanitation and hygiene.
Hayden, who was an active officer in his high school UNICEF club at Argyle High School was informed of the conference through his role as a high school fellow for the UNICEF organization. He was honorably chosen to attend and represent the United States as a delegate.
Prior to being chosen, Hayden along with the other AHS UNICEF Club officers were awarded The Presidents Volunteer Service Award issued by President Barack Obama.
Hayden is now attending Stanford University.
Pam Arrington serves as public relations specialist for the Argyle Independent School District.