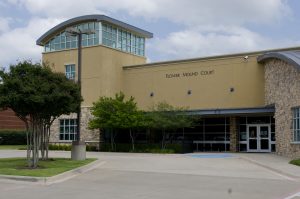 You might recall that late last month, a Flower Mound home was invaded and the homeowner fought back to protect her family.
Early that day, July 28, a masked intruder struggled with the homeowner in the frightening and extremely dangerous break-in. As of today, police aren't any closer to finding the suspect, who they thought would be likely to commit another similar crime somewhere.
But after checking with area municipalities, no other similar incident has happened, said Cpt. Wess Griffin, of the Flower Mound Police Department.
Police said the intruder entered the home, in the 2400 block of Conroe Court, through an unlocked door and was found in the kitchen area. A struggle ensued, then the intruder fled through the front door before police arrived on the scene.
Investigators have been unable to locate anyone matching the description of the intruder, Griffin said.
The suspect was described as a white male, about 5'10" to 6′ tall, with a slender build. The homeowner said he was wearing a white plastic mask, a black hoodie without any markings, and dark colored pants. He had light colored hair, and may have had glass cuts on his hands, face or arms.
Griffin said investigators have no leads to follow but are still processing DNA evidence collected from the scene.
"That's like a shot in the dark," he said, adding that unless an offender's DNA is already in the database police use, it can't be matched to anyone.
Police have been working with the victims to try and identify any trends that might help them lead to the suspect.
"Usually a pattern emerges but this seems to be one of a kind," Griffin said.
The vast majority of burglaries of habitations — as this situation has been classified — happen when someone, often with a key, enters a home without permission, Griffin said. They also tend to happen when the door to an attached garage is left open and someone enters the garage.
Police have been urging residents to take the following steps to ensure their safety at home:
Set alarms before going to bed, and lock all doors and windows
Leave an outside light on and make sure the garage door is closed
Don't leave any garage remotes in vehicles that are parked outside at night
Don't leave valuables in plain sight in a car or home
Trim bushes and shrubs away from windows and doors
Padlock all gates
If you have information about this case, please call the FMPD's anonymous tip line at 972-874-3307 or the non-emergency line at 972-539-0525.