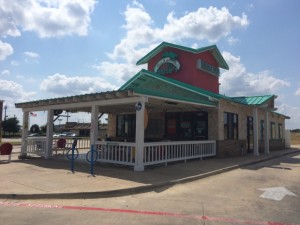 We may be enjoying a slight reprieve from the outrageously hot summer temperatures, but I have a feeling they're going to make a strong comeback before they disappear for good.
And when they do, what better way to cool down than with some delicious shaved ice and other cool treats from a place like Bahama Bucks?
While I was out of town at a nationwide Keller Williams Conference in Austin this week, my team took a fun little break and headed to the Bahama Bucks location in Lewisville (2320 S. Valley Parkway) to chat with local owner, Brent Daniels, about what makes Bahama Bucks unique from other shaved ice places and why his franchised location is so successful.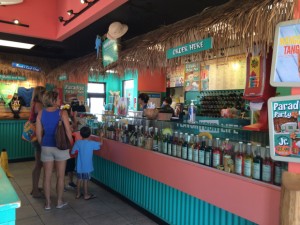 I had no idea that Bahama Bucks has been an institution in the world of shaved ice for as long as it has – founder Blake Buchanan opened the first store in the summer of 1990! He started out with just one ice shaver and constructed the original store by hand, enlisting the help of his family.
It didn't take long before the business took off! Blake's wife, Kippi, and his friend, Eric Lee, then helped him turn what was a supposed to be just a "summer job" into a full-time business.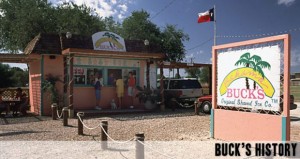 Each location works to keep that original spirit of Blake's first store in tact. They're uniquely designed to make you feel comfortable and relaxed – they actually want you to come in and stay for a while!
Thankfully Kari is our resident shaved ice and Bahama Bucks expert. And according to her, Brent's location is the best in the area. He truly brings that original spirit of Bahama Bucks to his location.
The service you receive is always top-notch – everyone is friendly and they make you feel like family.
And at the Lewisville location you can connect with friends by playing tetherball outside or by choosing a board game from their cabinet of games. This is truly a no-rush zone. You're definitely running on "island time" when you step foot in here.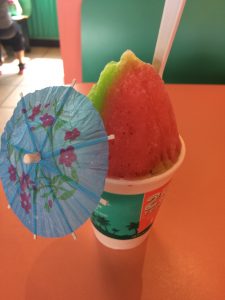 Since I was away this week, the team did not necessarily indulge in my new "Jay's Healthy Choice," but they definitely did go with some delicious options! Although if you are looking for some healthier options, you can go with some of their "light" sno flavors or with some of their fresh fruit creations.
They got a shaved ice topped with Pomegranate and Lime, a shaved ice made in their famous Bahama Mama Rama style (with ice cream and cream) topped with Watermelon and their Sour Patch flavor and one of their smoothies – the Funky Monkey made with fresh bananas, chocolate, coconut and pineapple juice.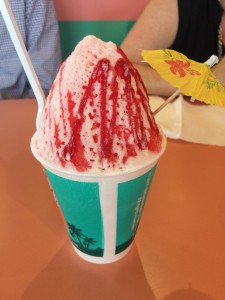 From their incredible Sno creations – like plain ol' shaved ice or their Bahama Mama Rama – to their other cold treats like Island Smoothies and Frostalattes, everything delivers on their promise to provide refreshing tropical indulgences.
Their company's mantra is Flavor Your Life and that's exactly what they do in everything they serve.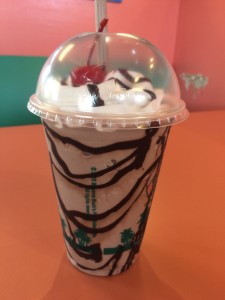 So, this weekend while you're out in the heat and looking for something cool, head out to the Bahama Bucks location in Lewisville to support this local business owner.
You won't regret it!
And keep an eye out for some of the great fundraisers they hold to benefit local causes!
Jay Marks writes the Foodie Friday column each week. You can read his blog at http://iamjaymarks.wordpress.com