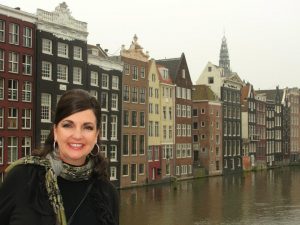 By Terri Guthrie
Amsterdam is a compact, historical and very charming city that is a blast to explore!  It's actually one of my favorite cities in Europe and is one the most popular travel destinations in Europe. Known as the "Venice of the North" for its endless canals, the capital of the Netherlands offers easy sight-seeing adventures by foot, bike and boat. Amsterdam's well-preserved and appealing 17th-century architecture provides a quaint backdrop for a city famous for its modern, progressive attitudes. From the city's world-class art museums to its colorful flower markets, from cannabis-selling "coffee shops" to the racy "red light district", there's something exciting and unique to discover in Amsterdam at every turn.
The Amsterdam canal system is the result of conscious city planning. In the early 17th century, when immigration was at a peak, a comprehensive plan was developed that was based on four concentric half-circles of canals. Amsterdam is home to more than one hundred canals and more than a thousand bridges. The three main canals are Prinsengracht, Herengracht and Keizersgracht, all 3 of which are navigable by boat. The canals are home to some 2,000 houseboats, including houseboat hotels. Tour operators offer a variety of cruises and excursions. I would highly recommend a canal tour during the day and an evening dinner candlelight cruise. It's pretty romantic!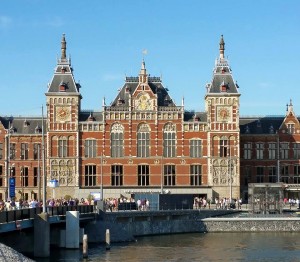 Sea trade made Amsterdam the world's wealthiest city during the 1600s. Moored outside the National Maritime Museum is a replica of "The Amsterdam", an 18th-century ship which sailed between the Netherlands and the East Indies. Artifacts from "The Amsterdam's" rich nautical history are housed within the museum which my husband Ron found extremely interesting. Formerly a naval storehouse constructed in 1656, the museum features a variety of rooms full of exhibits and artifacts. This multi-story museum demonstrates how the Dutch dominated the seas with exhibits that range from depictions of historical sea battles to artfully drawn maps and 17th-century weapons.
"Amsterdam Central Station" is the city's main train station and is a stunning building.  It services ten stations of the Dutch Railways. Six are intercity stops. This "Transportation Hub" is also an international railway station. From the station there are regular services to destinations such as Austria, Belarus, Belgium, the Czech Republic, Denmark, France, Germany, Hungary, Poland, Russia and Switzerland. We've taken several day train trips from Amsterdam…and these trips are worthy of an entire travel column which I will write about at another time.
The oldest section in Amsterdam is DeWallen. It's home to several historic buildings, including the city's oldest church, the Gothic-style Oude Kerk. It's just south of Central Station. Oddly enough right around the corner from this historical church is Amsterdam's infamous red-light district, the city's designated area for legalized prostitution. I've never seen anything like it and found it rather shocking but also somewhat fascinating… to say the least. More than one hundred one-room apartments are rented by sex workers who entice onlookers from behind windows illuminated with red lights. A strong police presence keeps the neighborhood safe. Although taking pictures is not allowed, visitors are welcome to stroll around this area that is always full of on-lookers, especially at night.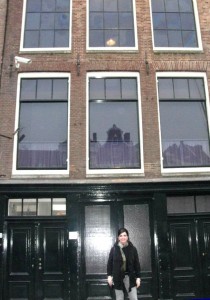 The Famous Anne Frank House is actually Amsterdam's most visited attraction and is situated along the Prinsengracht canal. The structure that once hid Anne Frank, her family and four other Jewish people from the Nazi authorities during World War II has been viewed as a memorial to the Holocaust since 1947.  Anne's father published the diary that Anne wrote while they lived hidden within the building. Oddly enough Mr. Frank, in an attempt to protect his beloved family, moved them from Germany to Amsterdam in 1933 in hopes they would be safe in Holland and away from the Nazis and Hitler. The building opened as a museum in 1960. Visitors can view the rooms where Anne actually lived and wrote her diary that chronicles her all-too-short life. It's truly a heart wrenching story and sobering experience!
Koninklijk is a royal palace located at Dam Square in the heart of Amsterdam. It was built during the "Dutch Golden Age". My daughter Codi and I loved visiting this opulent site which is one of three royal palaces in the Netherlands. The 17th structure began life as the city's town hall, but was converted into a palace during the Napoleonic Wars when Napoleon's brother Louis was crowned King Louis I of Holland. The interior is extravagant and is a premier example of the elaborate Empire style of the early 1800s. The palace is still used by the Dutch Royal House for Royal events but is open to the public for most of the year. I don't know why, but this jewel is not really advertised so not many tourists know about this magnificent hidden gem.
We also loved going to the Van Gogh Museum which is located at Museum Square, or Museumplein. This museum is home to the world's largest collection of the artist's paintings and letters. Two hundred paintings from the Dutch Post-Impressionist occupy the second story of the museum. Displayed chronologically, the artwork offers viewers an intimate look at Van Gogh's evolving style. There is also information about the artist's troubled life and about the efforts taken to restore his paintings. It's quite a story about this world renowned artist that died penny-less.
Also in Museum Square, is the famous Rijks Museum. This jewel is arguably the most important of the nation's art and history museums. The total collection numbers more than one million artifacts dating from the 13th century onward.  This gorgeous museum opened in 1885. The most famous are paintings by Rembrandt, Frans Hals and Johannes Vemeer. Rembrandt's masterpiece Night Watch is absolutely worth the price of admission alone! I would advise just buying a museum pass that will allow entrance into all the museums, this even includes the Koninklijk Palace.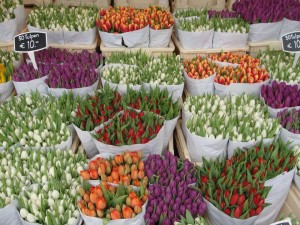 Of course, the world's only floating flower market is in Amsterdam! It's called the Bloemenmarket and is open seven days a weeks. Flower sellers load stands and floating barges with all of the flowers and bulbs for which the Netherlands is famous. Founded in 1862, this beautiful flower market includes more than a dozen different florists and garden shops as well as souvenir stalls. The bulbs offered for sale have been designated as ready for export, so visitors can purchase tulip, daffodil, narcissus and other bulbs as a lasting memento of their trip to Amsterdam…a pretty cool souvenir.
And one last thing I love about this city is all the bicycles! It's truly amazing to see. Amsterdam is one of the most bicycle-friendly large cities in the world and is a center of bicycle culture with good facilities for cyclists such as bike paths and bike racks, and several guarded bike storage garages. In 2014, there were about 1,200,000 bicycles in Amsterdam outnumbering the amount of citizens in the city. Bicycles are used by all socio-economic groups because of their convenience, there's actually 249 miles of bike paths. I was intrigued to see professional women cycling with their suits, dresses and heels on. Or young families can pile on the kids with all kind of innovative contraptions they connect to their bike. On our last visit we saw a wedding party on bicycles, it was adorable. I think cycling in Amsterdam is popular for a number of reasons but the flat terrain, and the arguable inconvenience of driving an automobile are some of the top two on my list. Also, I have to mention you don't ever see any overweight residents there. So beware…if you are crossing a street in Amsterdam…be sure to always watch out for the multitude busy bicyclers!
This is truly a city with a whole lot of personality!!! If you ever have the opportunity – go and explore Amazing Amsterdam!!!

Terri Guthrie and her pilot husband, Ron, travel around the world and share their experiences with readers of The Cross Timbers Gazette.