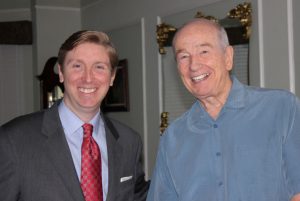 Texas State Representative Tan Parker was first elected in November 2006.
The conservative Republican legislator represents both rural and urban parts of Denton County, which includes Flower Mound, Argyle, Lantana, Dish, Ponder, Justin, Northlake, Copper Canyon, Double Oak, Bartonville, Trophy Club, Roanoke and portions of Lewisville, Fort Worth, Highland Village, Westlake and Southlake.
Earlier this year he was elected to the position of Caucus Chair of the State House of Representatives.
Serving in his 5th term in the Texas Legislature, Rep. Parker is focusing his efforts on economic development, job creation, strengthening border security and immigration policy, promoting fiscally responsible government spending, providing a strong public education system, enhancing public safety and protecting family values.
He was recently appointed to chair the Investments and Financial Services Committee.
Although many people know the names of their elected reps, they may never get the opportunity to hear them speak at meetings in the district. Recently, I interviewed Mr. Parker on video to allow his constituents to hear directly from him on some of the issues affecting the lives of Texas residents.