Close your eyes, take a deep breath and think back to when you were young and summers were footloose and carefree. Picture, if you will, one of the hallmarks of how you spent hot, lazy summer days.
Your reverie probably includes relaxation, fun, action, good food, entertainment, people and an escape from the dull moments you tried to cram full of adventure.
Slowly now, open your eyes.
You're in the new Cinemark theater in Roanoke.
The cafeteria-style concessions area screams school days, a total throwback to being with friends and family. Want popcorn? No problem. By building your own bucket, you can add gobs of gooey butter sauce — as much as you like — along with special popcorn flavorings, candy or, frankly, anything.
"What we're trying to do is create an environment that you just can't create at home," said James Meredith, VP of marketing for Cinemark.
Bulk candy and other treats, Coke beverages, and food you can order are some offerings. Beer and wine will also be available. There aren't servers, so you'll need to get your own victuals before the show.
Other menu items include: ICEEs, Minute Maid fruit smoothies, nachos, hotdogs, jumbo packaged pickles, Freshetta Fire-Baked pizzas, hand-scooped ice cream milkshakes and floats, Starbucks drinks, shrimp jammers and wedge fries, and frozen cocktails.
And speaking of the show … there is one XD auditorium, and the others, with enormous wall-to-wall screens as well, making characters loom larger than life. The Cinemark XD auditorium has a JBL sound system for clear digital sound. Images are delivered by a Doremi server and a Barco digital projector. Movies can been seen in 2D and RealD 3D, depending on the title.
Cinemark plans to make the Roanoke theater a true destination for the surrounding communities. There are children's days during the summer, senior days, a classic flicks club and even opportunities to play video games on the big screen. There are 14 auditoriums.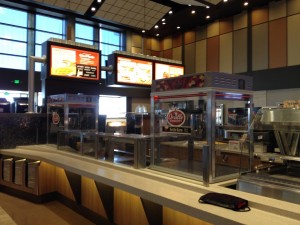 Oh, and the leather loungers. You won't want to leave after spending a couple hours relaxing in one of those.
For an adult, a ticket to an evening show will run $10. After 6 p.m. on Fridays and Saturdays it's $10.50. Children and seniors get in for $7.75. Military members get in for $9. Matinee prices and special pricing for XD and 3D movies also vary slightly.
The theater officially opens to the public tonight.