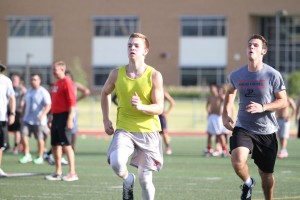 The Marcus High School football team is looking to improve upon a 5-5 record and fifth place finish in the district from last season, but coach Jerry Standford admits that is a pretty tall order.
"It's the most in-depth district in the state," he said. "Every game will matter as much as the next."
The Marauders are fortunate to return 14 starters (eight on offense, six on defense), including Kaden Smith, Nate Hopkins, CJ Respass, Andrew Parish, Troy Elliot, Matt Hankins, Andrew Fitzgerald, Dylan Holcomb and Sam Morris, all of which Standford expects to have strong seasons.
He said it will take depth, health, great quarterback play, and consistency to make the post season in 2015, and said at this point, it is hard to tell who will present the biggest hurdle to the Marauders grabbing one of the district's four playoff spots.
"Most of the teams in our district have a lot back," Standford said. "It will be tough with everyone."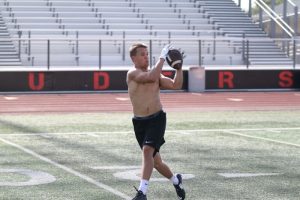 For the Flower Mound Jaguars, 2014 was a struggle as the Jags competed in a new district that included a 6A state champion (Allen), but coach Dane Johnson said he believes his team is going to have a much better showing than its 1-9 record from a year ago would indicate.
"I like our chances this year," Johnson said. "We have a good number of returning players with some experience and talent."
Johnson said he has a number of players he expects to have good seasons, as well.
"I see Balin Smith, returning starter [and] team captain leading an experienced offensive line, [and] Brenden Alves, Dylan Tillotson, Dylan Goerlich — all returning letterman at receiver leading us to an explosive offensive year," Johnson said.
"Robert Darnell, returning starter [and] team captain [at] middle linebacker, [should be] leading the way defensively with the help of Chandler Claterbaugh, Freddie Jackson, Devyn Coleman and Daryl Rutherford."
The Jaguars return 12 starters (six offensive and six defensive) from last year's team, and Johnson said he believes his team can vie for a post-season berth.
"For us to make the playoffs, we will have to come together as a team," Johnson said. "If we can develop a team first mentality and leave it all on the line for the player next to me, I think we have an excellent chance to make the playoffs. Plus, a little bit of luck."