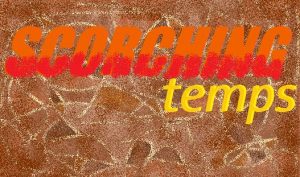 It was predicted to be a relatively wet July, as local weather experts expected the trend of the first six months of 2015 to continue in a slightly less emphatic manner.
But records show just .80 inches of rain have fallen so far in the month of July in the DFW area, well under the average of 2.2 inches this month normally sees.
"Looking ahead, the warmer ocean temperatures in the Pacific continue to indicate strengthening of the El Nino," said Brad Barton, chief meteorologist of WBAP. "Directly, it may not affect us much during the summer, but indirectly, evaporating ground moisture will make the atmosphere more humid, keeping temperatures in check and allowing for isolated humidity showers or storms almost any given afternoon during July. With luck, we'll get a little more rainfall than normal, but in manageable doses."
Manageable, it has been, perhaps even a bit parched.
The average high temperature for this month has been 97.5, about 1.5 degrees higher than the normal average, but coupled with the sunny skies, it has felt smoldering.
Compared to May and June, July brought out scorched earth tactics.
"June in Denton County was like living an over-filled bucket of water," Barton said. "Every time it rained, we were on the verge of flooding, and often past it. After record rainfall in May, due to an over-active subtropical jet stream, Tropical Storm Bill and a secondary upper-air disturbance poured yet more rain on North Texas during the last half of the month.
"Despite frequent clouds and occasional heavy rains, our average daily high was 90, while our average nightly low was 70, which left us with an 80-degree average monthly temperature; about a degree warmer than normal."
But it sure didn't feel like it once we hit the middle of the month.
According to Barton, rainfall was thankfully sparse in early June, after 12 inches of rain in May. No rain was recorded at Denton Enterprise Airport during the first 12 days of the month, but starting on the 13th, tropical moisture began surging northward from the Gulf.
"We picked up .20″ on the 13th, another .48″ on the 16th, and nearly 2.6 inches on the 17th. That was enough to run Grapevine, Lewisville and Lake Ray Roberts back above flood-stage. Some areas near local lakes may remain closed through early July until flood waters recede enough to allow for cleanup."
And then there was Tropical Storm Bill, which packed 50 mph winds and wreaked scattered damage to outbuildings and marinas as its center passed overhead.
A few days after Bill whooshed by, Barton said, an upper level disturbance from western Mexico brough more heavy rains with .96 inches recorded on the 21st, and unofficial totals logging 3+ inches of rain during Father's Day weekend.
"Flooding closed several major and secondary roads in Denton County, most notably FM 2499 in Flower Mound," Barton said. "Frustrating local emergency authorities, several drivers deliberately drove around barricades directly into flood waters, forcing dangerous high-water rescues."
For the first six months of 2015, Denton pulled in about 31 inches of rain, which was higher than several annual rainfall totals in recent years, he said.
Brad Barton is Chief Meteorologist of WBAP 820AM/570KLIF/99.5 The Wolf