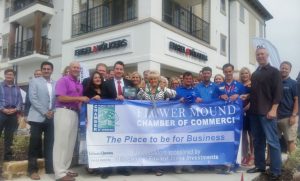 Engel & Völkers, a European-based premium real estate brand, recently opened its first Flower Mound shop at Lakeside DFW.
Roxann Taylor is the owner of the new Engel & Völkers Dallas Flower Mound. She also owns Engel & Völkers Dallas Southlake, which launched in late 2014.
The Flower Mound location will provide services for buyers and sellers of premier properties in Flower Mound and its surrounding communities. The sleepy town was chosen as Toyota, Kubota and other large corporations are relocating to the area.
Flower Mound is emerging as a key residential destination for both local and international buyers drawn to the area's close proximity to Dallas and Fort Worth, notable schools, renowned quality of life and abundance of outdoor recreation areas.
"Our expansion of Engel & Völkers' services into Flower Mound was truly a natural progression, as many of my clients were continually drawn to the area," said Taylor. "Engel & Völkers' unparalleled tools and global network will enable us to successfully service the needs of Flower Mound's increasing national and international audience."
As a top producing real estate advisor, Taylor was recently ranked in "The Thousand Top Real Estate Professionals," by REAL Trends, and The Wall Street Journal, a prestigious national report sponsored annually by the two respected publications.
"Roxann has showcased a keen understanding of the Dallas marketplace through her continued success as a top producing real estate advisor," said Anthony Hitt, CEO of Engel & Völkers North America. "As Dallas continues to grow as a go-to destination for large corporate headquarters, the team at Engel & Völkers Dallas Flower Mound will have the leadership expertise and necessary tools in place to meet the comprehensive real estate needs of both international and domestic real estate buyers and sellers drawn to Flower Mound and its surrounding areas."