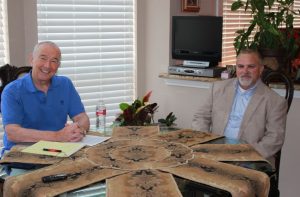 Colonel Chris Martin is another reason why I love doing these interviews.
I meet so many interesting people who serve the country, the state and the localities in which they live (See the video below).
Col. Martin graduated from the United States Military Academy at West Point, NY, in 1983. His first assignments were in Germany where he served in several company and battalions staff positions before attending the Infantry Officer Advance Course.
Following the Advance Course, he was assigned to the 326th Engineer Battalion in the 101st Airborne Division (Air Assault) at Fort Campbell, KY, where he commanded the 887th Engineer Company (Light Equipment) (Air Assault).
He later went on to receive a Master's Degree in Civil Engineering, and then served in a variety of assignments, to include the Fort Worth Engineer District, as an instructor at the Expeditionary Warfare Training Group, Pacific, and then staff positions in the 1ID Engineer Brigade in Germany and in SETAF in Italy.
Later he was assigned to the United States Army Training and Doctrine Command Headquarters as a special assistant to the commanding general. In July 2002, he assumed command of the 91st Engineer Battalion and deployed to Operation Iraqi Freedom from January 2004 to February 2005. Following redeployment from Iraq, he attended the United States Army War College, and then commanded the Fort Worth Engineer District of the Army Corps of Engineers from 2006-2009. For the next two years, Col. Martin was assigned to FORSCOM headquarters as the FORSCOM engineer and the director of the counter- IED task force.
He then deployed to Afghanistan in July of 2011, leading the Afghanistan Engineer District – North in a construction program that expanded the infrastructure of the Afghan Army and police. On Dec. 31, 2012, Col. Martin retired from the Army with almost 30 years of active duty service.
Today he currently works as a consultant in construction and emergency management. His military awards include the Legion of Merit, the Bronze Star Medal, Meritorious Service Medal, Army Commendation Medal, Army Achievement Medal, and Humanitarian Service Medal, as well as Air Assault and Airborne Wings, and the Ranger Tab. He and his wife, Carolyn, have been married for 26 years and have two sons and one granddaughter.
Col. Martin is now the president of the Denton County Veterans Coalition and wants readers to know about an upcoming event. For the first time ever, the DCVC will host the Regional Veterans Coalition Meeting from 11 a.m. to 2 p.m. on July 30 in Flower Mound. Veterans and community partners from around the DFW area will come together at Le beaux Chateau, 2701 Corporate Drive.
Due to helping a large number of veterans with emergency financial assistance in the last few months, the DCVC is unable to provide meals at no cost and requests that each guest at the Veterans Coalition meeting pay $7 at the door (cash only) when they sign in.