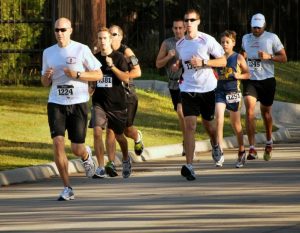 The 6th Annual Run Lantana 5K race will benefit an area organization that helps people who might need some extra care.
SpiritHorse Therapeutic Riding Center in Corinth has been chosen to receive funds raised from the race. SpiritHorse offers horse therapy to children and adults who have been diagnosed with disabilities.
The therapy is provided at no cost to the participant.
Previous beneficiaries are the Hydrocephalus Foundation, Pedi Place Pediatric Center and the Children's Advocacy Center.
This year's race is planned for September 19 at Blanton Elementary School.
"The race will attract 300 to 700-plus people," said Mark Norton, Lantana community association manager. "The average runner is between 35 and 45, but our race targets as young as 8 and as old as 70 plus! The event is very family oriented and a lot of fun!"
Last year, the event raised more than $12,000 for Cumberland Presbyterian Children's Home of Denton and organizers say they hope to raise more this year.
Find out how you can help sponsor the 5K. The race is advertised on websites, in newsletters, brochures, flyers, posters and t-shirts. Advertising reaches thousands of people, Norton said.