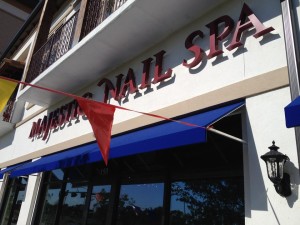 Majestic Nail Spa was the second tenant to move into a large, mixed-use development in Flower Mound and it has quickly become the lap of leisure at Lakeside DFW.
The elegant boutique offers touches of class and sophistication with bright colored salts lining one counter and glittering crystals on two peach-colored chandeliers. One would expect a grand hotel lobby or state room to roll out under that beauty, but instead, this is a simple place where people come to enhance their own beauty.
Le Ha Groff co-owns the business with three others, Kelly Vo and Henry Nguyen. She moved from Oklahoma City to Lewisville but has been in the nail salon business for more than three years. She partnered with Henry Nguyen to operate Majestic Spas in Coppell and Colleyville, and now in Flower Mound.
"We know that this area is growing," Groff said of why the owners decided on the Lakeside location. "It's close to the airport and it's very convenient."
In 2009, Nguyen owned InStyle Salon in Plano. During the process of designing that store, he decided to design his future stores. He owns nail spa salons in Carrollton, Dallas, Plano, Addison, Wylie, Inwood Village on Lover's Lane, Coppell, Colleyville, Fort Worth, Southlake, and now Flower Mound's spa at Lakeside.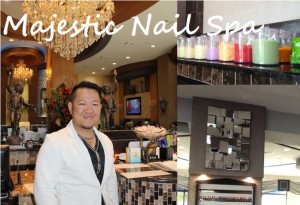 Two dozen luxurious lounge chairs line two front rooms at the 3,000 square feet Flower Mound spa — pedicure stations include foot soaking baths — and a rainbow of nail polish bottles offers an excellent selection for freshly pampered fingers and toes. They offer NextGen products which is a natural way to have nails done. NextGen powders are lightweight, but strong and durable, non-toxic, calcium and Vitamin E fortified.
This place is ideal for a birthday party, ladies day out events, bridal showers, or corporate events. And to whisk patrons away from the daily grind even more, the salon offers complimentary white wine, red wine and margaritas, as well as water and soda. Free WiFi is also available.
"I like to locate in new developments and I am very impressed with the way they have built Lakeside," Nguyen said. "It's going to be a genuine community where everyone can come and have fun together."
Services include nail care, pedicures and manicures, facials and eyelash extensions, waxing, and will include massages in the future.
Contact Kelly for appointments at 972-539-8200.