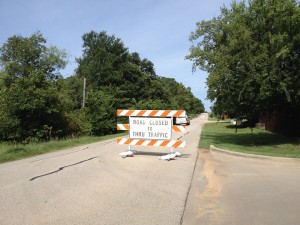 Medians planned for Sagebrush Road west of FM 2499 in Flower Mound were designed to provide a safer street while helping to accommodate residents.
But some residents have felt otherwise, resulting in a discussion at Monday night's town council meeting aimed toward aligning understanding.
Matt Hotelling, the town's traffic engineer said raised medians west of Devonshire Court will be 60 to 150 feet long, not including the turn lane for Devonshire.
They will range in width from 11 to 16 feet, he told the town council Monday evening.
No driveways on Sagebrush west of Devonshire will be blocked by raised medians. Removing a raised median could save concrete and potentially save a tree, which could also be done with an easement to change how sidewalk in that area encroaches this tree.
On the downside, reducing the median would have less of a traffic calming effect, and a homeowner in that area would not be able to enter/exit their driveway with a trailer without going over the curb.
Also, the town would have to redesign the project. However, if the median were removed, the town would see $6,500 in net savings, Hotelling said.
Additionally, a circular driveway, which sources had previously said would have one end blocked by the Sagebrush construction, would actually be moved to allow access. The homeowner entered an agreement with the town in April to move one end of the driveway to allow for access, according to Tiffany Bruce, the town's engineering manager.
As part of negotiations for their right-of-way, the homeowner was given funding from the town to build out the driveway, she said.