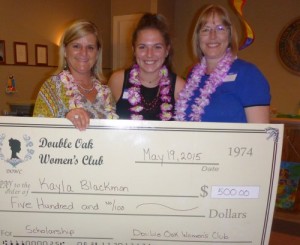 DOWC Scholarship
At their May 19 meeting, the Double Oak Women's Club was proud to award their $500 Scholarship to Kayla Blackmon, a 2015 graduate from Marcus High School. Kayla has been very busy pursuing her dreams from the time she was a little girl, beginning with a lemonade stand and a yard mowing business.
Today she babysits for 15 families and pet sits for even more families. A member of various honor societies, she also played club soccer and Marcus soccer and still had time to be an officer in the Circle of Friends club at Marcus and go on mission trips with her church. On top of this she has taken advanced placement classes at Marcus and was a member of the PSAT team.
Kayla will attend the University of Texas majoring in pre-pharmacy, and the DOWC congratulates her on her hard work in high school and wishes her the very best as she heads off to college in Austin!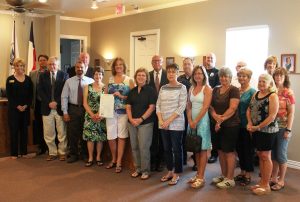 Event Raises Funds For New Portable Defibrillator
Thank you to all the participants of the Cars and Coffee event sponsored by the Double Oak Women's Club!
The owners of approximately 70 vehicles braved the morning heat to display their cars in the Downing Middle School parking lot on Saturday, June 6, in support the club's efforts to raise funds for a portable defibrillator for the Double Oak Police Department. A donation of $10 per car, plus donut and coffee donations enabled the DOWC to achieve its goal!
Many visitors from Double Oak and surrounding communities enjoyed viewing the diverse group of cars from Model A's to 2015 Corvettes!  Donuts and coffee were supplied by DOWC members and Village Donuts. Signs and banners for the event were provided by Sign Central of Flower Mound. Thank you also to Lisa's Flowers for their generous contribution. Many thanks to the community for making this event such a big success!
Casino Night A Success
The Double Oak Women's Club would like to thank all who helped to make their annual Casino Night fundraising event a great success. It was well attended and lots of fun, and approximately $2,200 was raised for the club's community service fund.  Please support the generous donors listed below by taking the time to thank them and/or patronize their businesses:
AAA Heating & Air – Irving; Barnes & Noble – Highland Village; Bennett Law Firm – Lewisville  ; Bonnie Morrow – ASL Sales; Boughton Outdoor – Double Oak; Buffalo Wild Wings – Highland Village; Candy Lamel – BeautiControl– Double Oak; Carol Johnson – Omega Atomizers – Roanoke; Charming Charlie – Highland Village; Cotton Patch – Flower Mound; Cristina's – Flower Mound; Cruise Planners – Melinda Fletcher; Excite Gym & Cheer – Highland Village; Fifth Street Motors – Lewisville; Humphrey & Associates – Denton; Jill Dawson – Passport Health Plano; Kwik Kar – Lantana ; Lantana Dry Cleaners – Lantana ; Living Earth – Double Oak; McAllister's – Flower Mound; Mosquito Joe's – Frisco; North Dallas Garden Design – Double Oak; North Texas Photo Booth – Lewisville; Peggy Durbin – Double Oak; Piranha Killer Sushi – Flower Mound; Rapid Med – Highland Village; Rosa's Café – Flower Mound; Salerno's – Flower Mound; Savory Bites – Argyle; Second Home Furniture – Lewisville; Select Air Conditioning – Lewisville; Skintastic – Plano; Snooty Pig – Highland Village; and Su Vino Winery – Grapevine