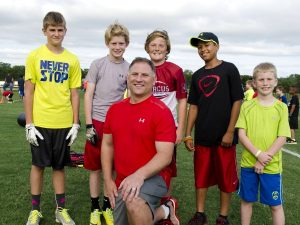 The recent development of the first Christian youth tackle football league in Flower Mound will give kids throughout southern Denton County the opportunity to compete in a fun and safe environment this fall.
The Flower Mound Christian Football Association (FMCFA), will be playing its inaugural season in the Prestonwood Sports Association for the 2015 season and FMCFA President Greg Novarro said he believes this provides a great opportunity for both organizations.
"In starting the new league, the biggest concern I know that a lot of these parents are going to have is are they going to have enough teams to play," Novarro said. "In order to answer that concern, I worked with Prestonwood Sports to assure that the kids would have more teams to play than any other Flower Mound tackle league. We now have one of the largest youth Christian leagues in Texas."  Our 6th grade division alone has over 12 teams to play and people are still signing up."
In September, teams from each league will be placed in different divisions based on grade, not age.  Novarro will have teams from 2nd-6th grade.  He said this is a very important safety concern that should not be overlooked.  "When you organize your league by age you are risking putting kids that are sometimes two years older and two grade levels above other kids in their same division," said Novarro.  He believes that is when kids can get hurt.
Novarro said he believes that dividing teams by grade and the ability to keep friends together set his league apart from other local organizations.  "In our league you can bring in a full team of 17 players so friends can play with friends.  They keep select teams out by assuring fair play rules apply. We are not a select league and this rule helps us stay that way," said Novarro. "Single players can still sign up and will be placed on teams with under 18 players."
Along with running FMCFA, Novarro also educates parents and coaches via his Facebook Group called 'Youth Tackle Football Safety – Parents Get The Facts.'  In his group Novarro posts articles, studies, and statistics debunking the recent media focus on the dangers of playing football.  Novarro plans to eventually bring these educational efforts to the community.
When it comes to finances, Novarro said that his league is 100 percent transparent. "We donate all of our funds minus expenses to other nonprofit organizations in the area and we allow members to view our financial records at any time."  Our summer camp that was just completed on July 1st donated all proceeds to Texas Veterans through Vetsco of Denton and the Marine Corps League of Denton. Novarro said giving back to the community is one of the principle reasons he started the league.
Novarro said that feedback from the community has been very reassuring.
"I've had a great response so far," Novarro said. "It's early, and we already have teams in every grade division. We've had a really good sign up for our camp and will be able to teach almost 60 kids about football and Christ. This is an incredible blessing."
Registrations in their first league are also going well.  Children entering 2nd through 6th grades can participate in tackle football and Novarro is also heading up teams in all age groups.  Novarro said he will coach 2-3 teams himself and then mentor new coaches if needed.
"I have trained with some of the greatest minds in youth football across the country, I take two courses per year on coaching youth football specifically, and want to give back by helping Dads make the transition to tackle from flag football.  It is a completely different game and if you are not prepared it can be tough for everyone involved."  You can register online at www.fmcfa.org or call Greg Novarro at 469-556-9519 for more information.
League Vice President Caleb James said that safety is their number one priority.  "The safety of the children, and educating parents about the "real" safety of youth football is what drives us. The statistics show that children are at greater risk from riding a bike than they are covered in pads playing football.  There is just a lot of misinformation out there," said James.
FMCFA also helps promote the lightest and they believe the safest helmets on the market, the SG Helmet.  "You won't find this in any store but we have access to them and at a major discount to parents," James said.  "We will have these on display at our camp and you won't believe the difference in weight and fit compared to traditional plastic helmets."
At $400 a helmet online they can be restrictive to purchase, so FMCFA has made a special deal with the manufacturer to get kids in their league the helmets for $275 or less depending on the number of helmets purchased.  James said they do not make anything for doing this they just believe in the technology and want to help keep as many kids safe as possible.
Visit the organization's website at www.fmcfa.org for more information.