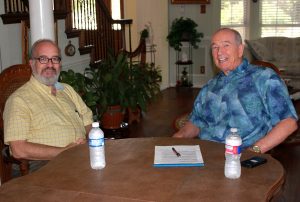 Rabbi Geoffrey Dennis, of Temple Kol Ami, 1887 Timber Creek Rd. in Flower Mound has been recognized as an innovative thinker in synagogue programming, having created and published on synagogue-based nursing, creating a congregational labyrinth, and incentive-based Jewish learning programs for both adults and children.
Before coming to North Texas, Rabbi Dennis was the Assistant Rabbi at Indianapolis Hebrew Congregation. He is an ordinee of Hebrew Union College-Jewish Institute of Religion. He earned undergraduate degrees in Education and in Nursing. He was a Registered Nurse before he entered the rabbinate, working in cardiac care, long-term care and hospice.
Although Rabbi Dennis is actively involved in the community life of southern Denton County, I asked him to come over for a video interview (please see below) to introduce himself to those who may not know him.
He serves as a volunteer police chaplain for the City of Flower Mound, and is an Adjunct Professor of Rabbinic Literature in the Jewish Studies' program at the University of North Texas, teaching courses in Bible, Kabbalah, and modern Israel. Rabbi Dennis is currently on Steering Committees of the UNT Jewish and Israel Studies Program, the North Texas Hillel, and the Planning Committee of the Texas Health Attending Clergy Association. He is past president of the Flower Mound/Lewisville Ministerial Alliance, and his columns have appeared regularly in Dallas-area newspapers.
He has published articles on topics ranging from theology to pastoral care. His most recent article, "Vampires and Witches and Commandos, Oy Vey!: Comic Book Appropriations of Lilith," co-authored with his son, Avi, was published in Shofar: The Interdisciplinary Journal of Jewish Studies in 2014. Rabbi Dennis is a multi-entry contributor to the 30-volume Encyclopedia of the Bible and its Reception. His book, The Encyclopedia of Jewish Myth, Magic, and Mysticism, was a Jewish Book Award finalist in 2007, and a revised and expanded second edition is due out in 2015.
He is the proud husband of Robin, his wife of 30 years, and the father of two sons, Avi and Micah. Rabbi Dennis' passions include movies, history, nature, comic books, throwing tomahawks, DIY projects, and all things ancient and arcane. He believes that books are angels in material form and we should surround ourselves with as many as possible. This video interview was thoroughly enjoyable because Rabbi Dennis, with his amiable personality, knowledge and eloquence made it possible without a rehearsal and without any need for editing. We are truly blessed to have him in our community! Shalom!

Bob Weir is a long-time Flower Mound resident and former local newspaper editor.