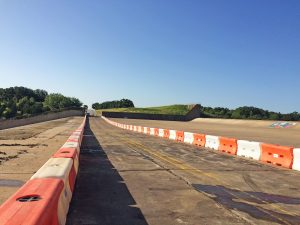 Fairway Drive, commonly known as the Dam Road, will reopen to motorists on Friday, July 17, at noon, according to the Town of Flower Mound.
The speed limit will be reduced to 20 mph, and permanent road repairs will begin once Grapevine Lake levels have further receded, officials said.
The permanent guardrails and fencing along Fairway Drive were removed in late May before the water covered the roadway, and will likely not be replaced until the water level of Grapevine Lake is much lower. In the meantime, temporary water barricades were recently installed, the spillway was power-washed and a street sweeper was brought in to clean up existing debris left on the roadway.
Fairway has been closed due to flooding since May 29. It spans a a spillway for Grapevine Lake.