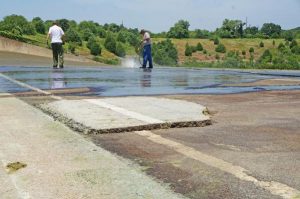 Just a quick update on Fairway Drive, what many of you know as the "Dam Road," from the Town of Flower Mound:
"As of midday today (July 10) the Town of Flower Mound was notified this afternoon that the U.S. Army Corps of Engineers started to incrementally open the gates of the Grapevine Lake Dam. You may remember the gates have continually been open .08′, which was the maximum downstream conditions would allow without adding to the current flood conditions our neighbors may be facing.
By this evening, the Corps estimate both gates will be open to 2.6′ and discharging water at a rate of 2,000 cubic feet per second. Corps staff also have started to power-wash the thick sediment off of Fairway Drive, which has built-up over the last several weeks.
While this is definitely forward progress, please keep in mind there is still no timeline for the reopening of Fairway Drive, as the Corps has not yet been able to assess the infrastructure for safety and damage. We will continue to keep residents informed as updates become available."
Molly Fox is the Communications and Marketing Manager for the Town of Flower Mound.