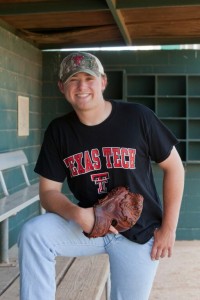 The Liberty Christian baseball team is a perennial playoff contender and 2015 was certainly no different for the Warriors. While an exit in the bi-district round was likely not what most of the Liberty faithful were expecting, the efforts of Warriors hurler Tyler Duck were beyond reproach.
Duck wrapped up the season with an 8-0 record, 1.31 earn run average and 59 strikeouts and was named to the first-team all-state team. Duck is headed to Texas Tech University in the fall, where Liberty baseball coach Johnny Isom believes the southpaw from Flower Mound's Wellington community will be a strong addition.
"I think Tyler would be a good fit anywhere because he's a left handed strike thrower who understands how to get batters out," Isom said. "I'm sure he will have to make a few adjustments at the DI level, but I know he will not be outworked."
Duck picked up the Warriors only victory of the post-season, a 4-1  win over Houston St. Thomas in the second game of their three-game series in the bi-district round, and said he was pretty pleased with how things unfolded this season for LCS.
"The season was pretty good," Duck said. "We did get to the first round of the playoffs, and district was pretty successful. I kept the ERA under two, and our team hit about .350, so I felt like it was pretty successful."
Duck said that he wanted his contribution to the team to be that of the consummate competitor.
"I just tried to make every game winnable," Duck said. "I always tried to keep a shut-out going. I did my best all year."
The 2015 graduate said that being selected to the all-state team was overwhelming to him.
"I was pretty excited," Duck said. "I didn't even know that I was in the running, really. I mean, I knew I had a pretty good season, but I was just focused on me and the team."
Duck said that he chose Texas Tech for a couple of reasons.
"I've always liked the program," Duck said. "I think that [Coach Tim] Tadlock is a competitor. I'm a competitor. I think it goes hand- in-hand, and I don't know, I just like to compete, and I think that is the program for me."
Duck said his goals for next season in Lubbock are to obtain a spot in the rotation and get his foot in the door, and use the opportunity to get acquainted with his new environment.
"I've met the recruiting coordinator J-Bob Thomas and I have been out there to get a look at the facilities," he said.
Duck throws a two-seam fastball — the speed of a fastball, but the general movement of a screwball — and curve ball and said he is going to try to develop a third pitch this coming season, and said that when he looks back on his time at Liberty, he is going to remember the people more than anything else.
"It will be the relationships I've made and the team," Duck said. "Just all of the friendships that I've made have been great. I've made so many connections throughout the years. I think that Johnny Isom has really prepared us with how he coached us. He was a coach, not a friend. And that really pays off in the end."
Isom said that Duck has made immeasurable contributions to the Warriors baseball team and said that he will definitely be missed.
"Tyler was the backbone of our pitching staff, and a leader for the baseball team," Isom said. "He was also a great role model for our younger pitchers. His impact his senior year will be felt for several years to come."
Duck's Favorites
Favorite Sports Team: Texas Rangers
Favorite Food: Crab
Favorite Movie: Remember the Titans
Favorite TV Show: Malcolm in the Middle
Last Book I Read: Sherlock Holmes Favorite Musical Group or Performer: Cross Canadian Ragweed