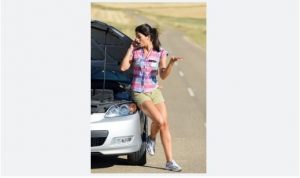 This year's summer driving season is well under way and more people than ever are hitting the roads.
AAA's recent survey reports that 6 out of 10 Americans plan to drive 50 or more miles away from home for their vacations, especially with gas prices at their lowest summer point since 2009. Spontaneous road trips sound romantic and fun, but make sure the adventure you get is the one you actually planned. Running out of gas on a scenic road with a dead phone battery and empty cooler isn't generally part of the plan.
To ensure you are well prepared for your adventure, first make sure you are traveling well equipped. We have put together a list of what your car's emergency kit should include to get you through almost any emergency on the road. Be sure to visit 
www.GoKwikKar.com/emergencykit
 to download and print a copy before your next trip, but here are a few key
items:
Fully charged cell phone and charger (even old cell
phones without service can still reach 9-1-1)
Roadside flares or triangle reflectors/tape
First-aid kit
Blanket
Flashlight with fresh batteries
Toolbox or multi-tool
Tire pressure gauge
AAA or roadside emergency card
Lighter, water-proof matches, or flint rod
Staying calm is the best way to handle any emergency. This helps you better assess the situation knowing you are prepared, and helps those you are with feel more confident and secure despite the circumstances. Sharing your trip itinerary with friends or family
back home can also be helpful for a variety of reasons, including just the peace of mind that others can follow your journey. However, for security reasons, we do not recommend sharing your trip on social media outlets until after you have returned home.
The week before your road trip be sure to stop by Kwik Kar to take advantage of our special summer offer for a Complete Trip Check for $48.99. Visit 
www.GoKwikKar.com/special-offers/tripcheck
 to download the coupon. With over 30 points of inspection, we'll ensure your windshield wipers are ready to wipe, your tires (including your spare) are properly inflated and ready to roll, your car's fluids are topped off, and your AC is ready to keep you cool.
If there's a problem, we'll let you know before you hit the road because we want your trip to be memorable – for all the right reasons!