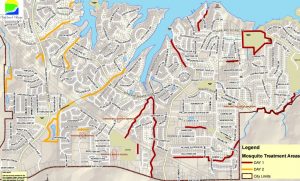 Two testing water pools have tested positive for West Nile Virus in Highland Village, and the city will begin spraying certain areas to help combat disease-carrying mosquitoes.
Routine testing found that two of the eight pools showed the presence of WNV in the area, but the city does not believe it has contaminated the whole host population of mosquitoes yet.
Four gravid mosquito traps are used weekly to capture and test the species of mosquito that can carry WNV. Last week's testing brought the positive results.
Spraying will be done from 4-7 a.m. on Wednesdays, Thursdays and Fridays along the city's greenbelts and wooded areas. There will be bandit signage on each area. If you're around these areas during these times you'll want to stay away from the work crews.
The city also recommends that residents cover fish ponds and bring pets inside, close windows and wash outside items with soap and water before using. More details about the spraying, including a map of the areas being targeted, are posted on the city's website.
Call the public works department at 972-317-2989 for more information.