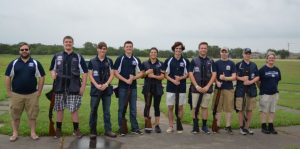 The Flower Mound High School Clay Target Team went to the state competition June 17-20 in San Antonio. They competed in sporting clays, trap and skeet.
Ross Wheeler took third place in the sporting clays event. The team members who shot in the 90s in trap include Dylan McNeece (95), Bradley Lacoume (92), Valentina Pauri (91) and Trevor Kay (90).
The top shooters in sporting clay included Ross Wheeler (96) and Karson Foster (94).
Pauri also finished in second place in the womens' division of the trap event.