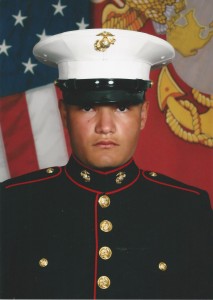 PFC Matthew Medlock of Bartonville graduated from the United States Marine Corps boot camp at Marine Corps Recruit Depot in San Diego earlier this month.
Medlock successfully completed 13 weeks of intensive basic training and graduated June 5. He is a graduate of Guyer High School in Denton.
He was taught drill and ceremony, weapons, rifle marksmanship and bayonet training, chemical warfare, field  training and tactical exercises, armed and unarmed combat, military  courtesy, military justice, physical fitness, first aid, and Marine  history, traditions and core values.
Medlock is continuing his training for nine weeks at Infantry Training Battalion at Camp
Pendleton in California. Once that is completed, he will be stationed in Virginia and continue training for USMC Security Forces.
Medlock is a 2014 graduate of Guyer High School, Eagle Scout of Troop  771 and is the son of Don and Betty Medlock of Bartonville.
He is the second in his family to serve in the United States Marine Corps. His older brother, Sgt. Michael Medlock, a 2005 graduate of Liberty Christian School, is stationed in Norfolk, Virginia.